Didn't have as much time as I would have liked this weekend, but did make some progress.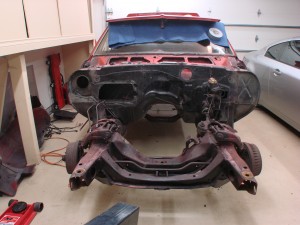 Fenders are off, motor and trans are out.  Even though this thing weighed twice as much as any motor I've pulled in the past, it was easily the…easiest.  Probably helped that there was no "car" in the way… 🙂
Couple things I did wrong here – it helps if you drain the transmission fluid in advance.  Second, don't do what I did with the ratchet-straps, use chains.  I didn't get the chains when I borrowed the hoist and had to improvise.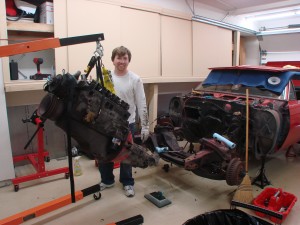 The Muncie transmission was pretty light actually.  It is set to get cleaned up.  Unfortunately the casting number indicates it's an older transmission.  Don't yet know if the guts are the same, this one probably has a 7/8″ cluster pin, the newer/correct one for the car has a 1″ pin.  Will have to see what I can use from this thing, and the rest will be up for sale.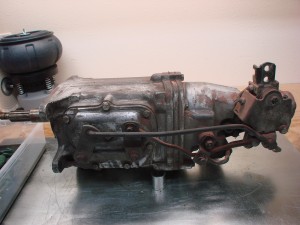 With a casting code of 3851325, this thing could be as old as '64, man that's crazy old!  No offense to me more senior readers.. 🙂  Actually it looks to be in great shape.  And that weird pot-looking thing hiding behind the transmission, will come into play very soon.
The exhaust headers had three varieties of fastener holding them on.  A couple were snug, most were finger tight, the rest plain loose.  Between that and the big grommet-less holes in the firewall, it's no wonder I was so sleepy the whole ride home…:)  I'm thinking I'll re-use these totally awesome headers in the build………NOT!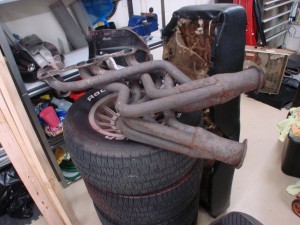 More funny stuff found in disassembly- the distributor rotor only had one of its two screws holding it in.  The carb gasket had big chunks missing.  Fuel line was kinked in two spots.  And you just gotta love the condition of the steering's rag joint-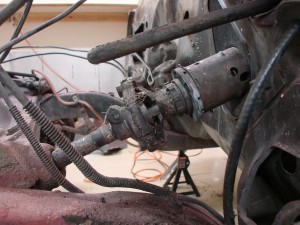 Overall I am very pleased with the condition of the body and frame as it comes apart.  No real rust to speak of, even in the usual places.  Pretty much everything else will be replaced, so the raggedy-ness of it all just adds amusement.
Still need to finish emptying the interior and stripping out the rest of the ghetto wiring, then we'll be ready for some real fun.  Looks like I'm actually going to order a couple parts this week!