Not a bad idea, unfortunately the rules makers thought of this and restricted it.  From here:
http://www.rhoadescamaro.com/build/?page_id=260
Under 14.8.I.4:
"Intermediate mounting points (e.g. shock/spring mounts)
may not be moved or relocated on the arm, except as incidental
to the camber adjustment."
So, if I were to "spend" the camber kit allowance on lower arms, and I lengthened the lower arm by 1" for instance,  I could choose to add that inch inboard of the spring/shock mount.
This would improve the motion ratio from 9/16 (.5625) to 10/17 (.588), less than 5% improvement.  There'd be about a 10% increase in wheel rate, which would allow for a softer spring.
Of course, anything that helps is welcomed, but after weighing the possibilities, I've decided to stick with the stock lower arms (though they'll get some special bushings) and go with a replacement upper control arm.  I'll explain the reasoning behind that one later...
The '67 block was small journal with 2-bolt mains, they moved to large journal in '68.  Small journal maybe not as reliable or as long-lived in a roadracing environment, but should last plenty long in autocross and actually make a couple more hp in the process.
It's not hard to find an original block.  In '67 the 3892657 block was used by many motors, there was nothing special about its implementation in a 302.
http://camaros.org/drivetrain.shtml#BlockCast
The engine build has been in progress since before the car was acquired, as I figured it would be one of the more tricky and time-consuming aspects of the build.  I'm hoping for it to be done by Thanksgiving but Christmas is more likely.  Not really a problem as the rest of the car will need a bunch more time than that.
The engine builder was chosen for their long history building successful engines under the SCCA's strict rulesets, and also for many of those engines being small block Chevys.  The latter aspect affords them a great inventory of parts and connections to others who have parts.
I mentioned earlier, there were a few reasons I chose a '67.  There are three, really, here's the first one.
Each year had different sets of options available - some of it was things you could get, but other parts of it was things you could choose not to get.
In '67, unlike '68 and later, you could order option code C48, for heater delete.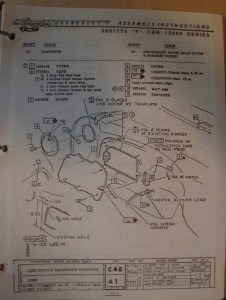 The factory left it out completely, and put a couple covers over the firewall holes.  Lots of tape too, on other bolt holes and on the wiring harness.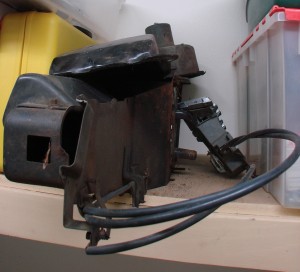 So what's the big deal about that?  Well, between the inner and outer pieces, hoses, and the water that goes in it all, it's a solid thirty pounds off the car, most of it on the nose and all of it above the car's CG height.
Without going too much into the physics right now, in a car like this old Camaro, anything you can do to reduce or move back and down, stuff ahead of the rear axle, you benefit.  The larger the reduction, rearward shift, or lowering, the better.
The rules are a bit tricky, but in Stock, you are allowed to do what's called an "option package conversion", within packages or models made the same year.  This is a lightweight version of the full "update/backdate" allowance of Street Prepared, that I cannot leverage.
What that means is, I can build a Z28 clone, so long as every part I am not "free" to change, is correct for the Z28.
Hypothetically speaking, let's say there were two packages available on a car - the Base and the Sport.  The Base has a wimpy engine, a lightweight hood, and a small front sway bar.  The Sport has a better engine, a heavy hood, and a big front sway bar.  In Stock (and also Street Touring), you can convert your Base to a Sport, even if the codes in the VIN or on the option sticker are no longer correct.  The caveat is if you want the better engine of the Sport, you also have to run the heavy hood, because that was the only way you could get the better engine, and there are no allowances to change the hood.  You don't have to change the front sway bar, because that part is "free" and you can run any front sway bar you like.
This allowance only works across cars built the same  year.  What this means is, I can convert my base '67 coupe to '67 Z28 specs, but I cannot convert it to '68 or '69 specs.  This limits some of my options as a lot of neat stuff became available later, especially in '69.  Though of note, a lot of the parts of legend, like the dual-carb induction setups, were only ever offered as factory performance "trunk kits" (parts in trunk of car, not installed at factory), making them illegal for this class.
In the case of the '67 Z28, it could only be had with a 302, M21 manual transmission, 12-bolt rear end, and power front disc brakes.  So at the very least, it'll have all those things.  Back in the 60's, manufacturers were much more flexible with options, so just about everything else you could get (or not), subject to some package-level restrictions.  The reason I chose a '67 over '68 or '69 has to do specifically with the options available and mandated that year versus the later cars, which I'll go into more detail over later.
It would have been cool to start with a '67 Z28, but they only made 602 of them, it would have added a lot of cost without any real benefit for my purposes.
A lot of these build start of with a snappy digital rendering of how the car will look, with impossibly tinted windows, ride height down in the weeds, and a big long list like:
So-and-so's subframe
600hp Ls-whatever
245 front, 345 rear tires
etc.
In this case, the rules listed below define what I'll be doing.  Distilling it down, the parts list will be something like:
Springs (all stock types in stock locations), shocks, panhard rod, roll bar, subframe connectors (bolt-in), wheels (9" max width), tires (265 max width, 140+ treadwear), bushings (non-metal), brakes, limited slip, seats, steering wheel, headers, baffled oil pan, exhaust.  With our camber kit allowance I can do a custom front upper or lower control arm, but not both.
In the process the car will essentially undergo a full restoration so a lot of things will be cleaned, painted, powdercoated, or CAD plated, but I don't consider that part modification really.
Everything else will be stock, including the motor internals, interior, body, etc.  The car will basically become a '67 Z28 clone in the process so it'll be put together as an ideally optioned '67 as it goes with a 302, M21, 3.73 12-bolt rear, etc.
I will be surprised if I am actually able to leverage many off-the-shelf performance parts  in the build.  Most of the things available for these cars either aren't legal for my chosen class, or they aren't ideal for my purposes.
I've set things up so I'll have to create you a username to comment.  This is mostly to keep out the spam bots, but will also help me get to know everyone interested in the project.
To request a username or ask a question, please email me, jason@rhoadescamaro.com.
Good question!  Actually nobody has directly asked me this yet but this is a model of how I'd like the Q&A section to work.
The answers are several-
By posting things on my own site, I retain ownership of the "intellectual property".  Over the years I have spent a lot (way too much probably) of time reading and posting on dozens of different automotive message boards.  I've always done so in the most kind and helpful manner I could, but at the beginning of a project like this, with all the time I figured I'd spent creating posts, and answering questions, all that work would be going into someone else's database, helping drive hits to their site, delivering money to the site owners from its sponsors.  Of course not all sites are sponsored (shout out to http://corner-carvers.com and http://roadraceautox.com!) but the ones that are have a whole 'nother set of problems-
Often times sponsor-supported sites slide into heavy-handed moderation in favor of certain products.  I'm picky about what goes on my car, and if I buy a product from Brand X and feel it's crap, I want to freely be able to say so, without any fear my post will be edited or deleted.  At the same time, if I acquire a sponsor, I'll be able to keep anyone from saying anything bad about them here.  🙂
I've done a few other build threads (240sx - STS build; 240sx - SM build; SS Viper build) and I don't like how they sometimes go off-topic.  I think it'll be easier for me to maintain a good signal:noise ratio in this fashion.  I will probably allow comments to the posts to get feedback but will maintain full censorship control over each submission.
Like the build of the car itself, I'll like having a high level of control over what goes on.