The purpose of this project is to construct a '67 Camaro that can win the SCCA STX Solo National Championship.  To do that I'll have to beat some very fast drivers in much more modern cars – the Mazda RX-8, BMW 328, Subaru WRX, and 1989 Honda Civic Si (those not familiar with autocross will wonder about that last one, it's a long story…)
In doing so I have to adhere to the rules of the STX class.  Along the way I am going to have lots of problems making the car work as well as I need it to within those allowances.  Here are a couple links too, the rules may change a little over time, depending on how long this thing takes to get put together…
Those not accustomed to this sort of competition are likely to think to themselves along this road "why don't you just cheat and do X"…"nobody will be able to tell if you do Y".."just do Z, they're probably doing it too".  None of those thoughts are going to fly here.  SCCA Solo is a much different sort of motorsport – there is no "tech inspector" to try and fool with illegal modifications – it is a competitor policed sport, and all your competitors, who are also your friends, are relied upon to make sure your car is legal.  I think this is part of why there really isn't that much cheating in Solo – if you did, you're really cheating on your friends.  In roadracing, where all the best cheating stories come from, there's much more of an "us vs. them" mentality, and people probably take getting away with having "outsmarted" the inspectors, with pride.
Others may wonder why I'm choosing to limit myself to what is a fairly low level of modification for a platform that you often find extensively modified.  Part of the reason is I've built two winning cars to this level of preparation before, and enjoy what it allows me to do, while not making me do anything I don't want to do…like cut up the car to fit huge tires.  In the case of the Camaro, there are actually a surprising number of similarities between the ST Solo category, and what Donohue and the Trans-Am racers were allowed to do back in their day.  I am a huge Mark Donohue fan, and part of the wacky appeal of this car to me, is that when I'm done, the car should extremely similar performance to what he experienced back in the late 60's.  If I do it right, maybe even slightly better performance… 🙂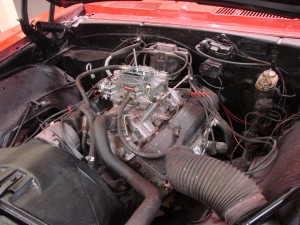 (this is a totally irrelevant picture of the crummy motor that came in the Camaro, in the middle of a compression check.  Had to break up all this ugly text with a pic! Motor going on craigslist soon)
Of course, there are more things one can do to make a car faster than what I'll end up with.  I think at some point though, the more a car is modified, it begins to lose its identity.  Everyone has a different line where they feel a car loses its identity, and for me, it's not far beyond where I'll be going with this car.  Sure, it could handle better if I replaced the frame with C6 stuff, and it would make more power with a new LS9, and there could be huge improvements moving the firewall, back-halving and mini-tubbing the car, rack-and-pinion steering, etc.  But would it still be a Camaro?  Is a new C6 with a first-gen Camaro body on it a Camaro or Corvette, does it even matter?  I guess my point here is, the STX rules are a place I feel allows me to make the car all it can be, and a ton more fun to drive, without sacrificing its identity.  When you're operating in a world without rules or boundaries, if you want the fastest drag Camaro, you take your Camaro's firewall identification plate and slap it on a top-fuel dragster; if you want the fastest autocross Camaro, you slap it on an A-Mod car, or for the fastest track Camaro, find a spot for it in an F1 car.  Obviously those are extremes, but if you don't have boundaries, you're depending on everyone to have their line where the car loses its identity, at the same place.
It also helps the budget, that STX rules are somewhat limited.