Pat brought the car back home last night.  Looks fantastic!  Can't believe I've owned this thing almost a whole year now.  I am extremely pleased with the work Pat did, and the timeline he was able to keep.  The body and paint portion of this project was the one I feared the most.  Heard so many stories of people getting their cars locked in "paint jail" for years, with bills piling up in the tens of thousands.  Not here!  He got the car done in 4 months, for the originally quoted price, which was about half of what some of the other big-name shops wanted.
The foundation is established, it's now up to me to get this thing put together over the fall and winter.  Need to do all the wiring, install and plumb the brakes, the fuel system, install the driveline, cooling system, and interior.  Tons of little odds and ends.  I figure it's about 75% done at this point.
As for aesthetics, wasn't really trying to reinvent the wheel here.  The one place I tried to get creative (the door handles) was really a mess-up.  The brushed aluminum Fesler door handles are really nice looking, but they don't go with the stock chrome trim elsewhere-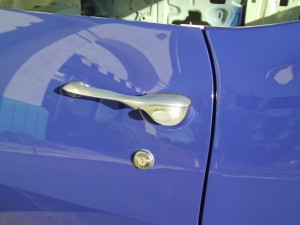 Looks ok by itself, but alongside the other trim, not as much.  Will probably just get a set of normal chromed pot metal handles.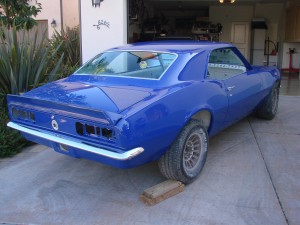 Some more outside...since it may not see daylight for several months, tried to get a few with it in the driveway-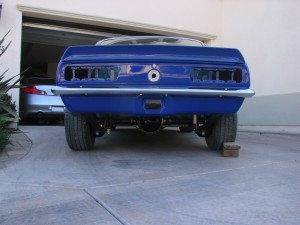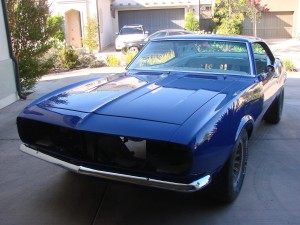 Here's a few inside the garage, its new home for a while-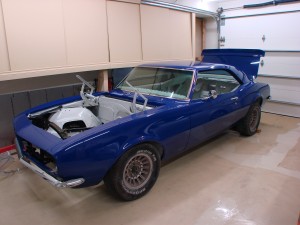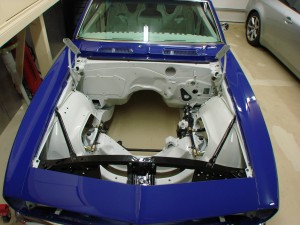 "FEED ME A 302" I can hear it calling... 🙂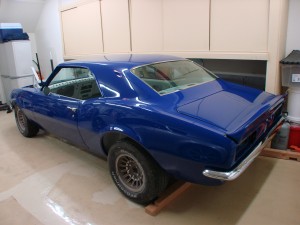 Compare to where it was a year ago: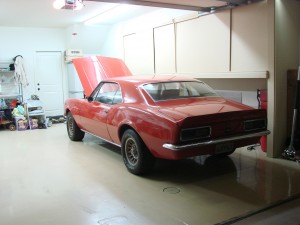 Come a long way, still a long way to go...hope I can remember how it all goes back together!  🙂
Car should be coming home tomorrow, took a last trip to check things out today.  Pat and team have done a really great job, in a really reasonable amount of time.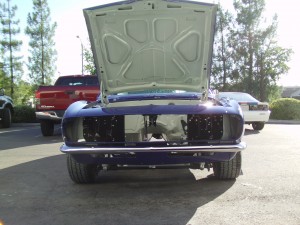 Great quality on the work.  Paint looks fantastic, and the body lines are straight, with the gaps nice and consistent.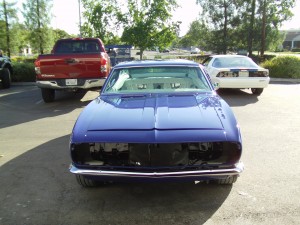 Fancy door handles installed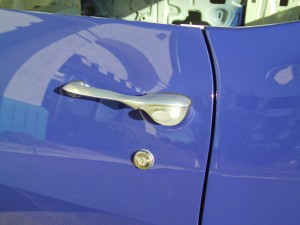 Engine bay minus the engine...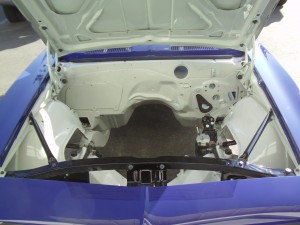 Still need to put on the spoilers - rear is going on tomorrow, front will go on later.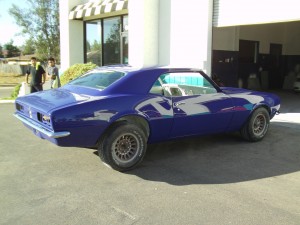 Checked on the car today, really getting close now, confident I'll have it back on my hands to start putting things together over labor day weekend next week.
Fellow came by to install the new windshield and rear glass.  This way the paint could be touched up easily if anything went wrong at install, fortunately it all went great.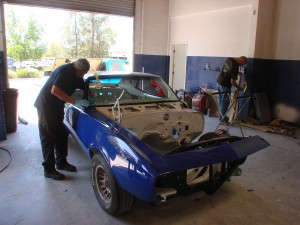 Here's a view into the engine bay, with the front end of the car about 2/3 assembled.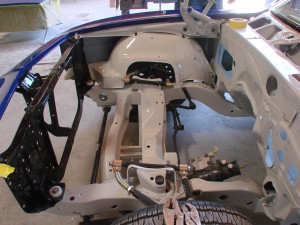 Rear glass and window trim installed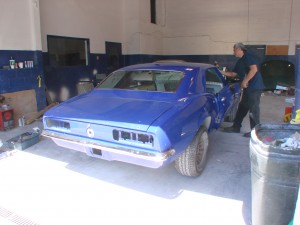 View down the side, begging to see how things will look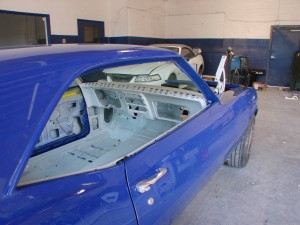 Been a long time since an update.  Pat lost one of his key employees while expanding his shop, so he hasn't been progressing as quickly as he'd like.  Plus this phase had a lot of grueling work - fixing all the tiny imperfections in every body panel.
A couple weeks ago the ancillary panels got painted (these are all cell phone pics, sorry for the quality)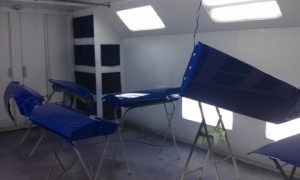 Fenders looking good-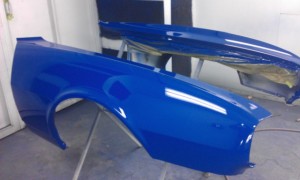 Lots of wet sanding and buffing on all these parts.  This week they started on hanging some panels.  The fenders hadn't been on the car since I took it apart, almost a year ago.  They're starting to get re-acquainted...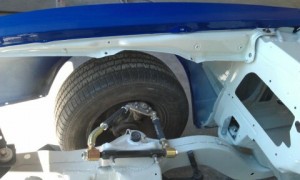 The hood was one of the more time consuming parts.  It's a huge piece, and Pat wanted to be sure it was perfect.  The underside got painted first, in the same gray used elsewhere.  Any leaks or splatter will be immediately obvious in this car!!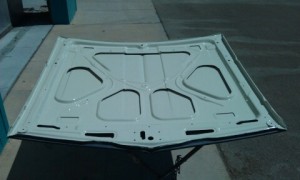 Could be as little as another week or two until it's done and back in the garage.
Received some more pictures of the car today, out in the sun- color looks great!!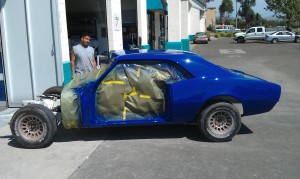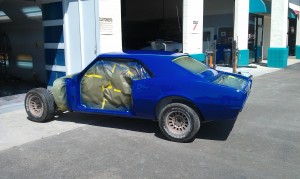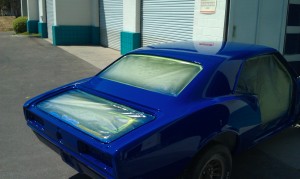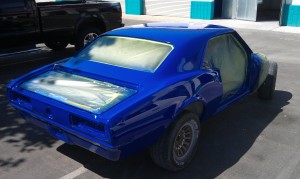 The past several weeks, the car has been undergoing the bulk of the hard work that goes into a good body/paint job.  Weeks of guide coats, sanding with increasingly fine grit sandpaper...Lining up body panels to ensure the gaps are even, lines straight.  Then, take it all apart again for prime and paint...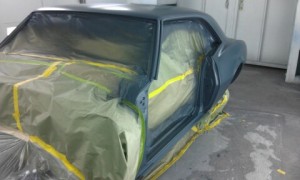 What do you guys think of my chosen color?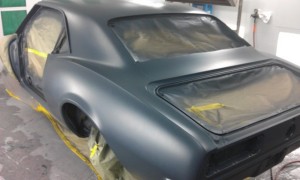 Looks pretty tough eh?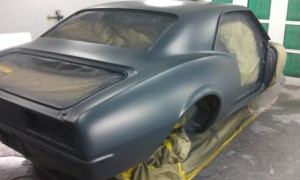 Ok ok, maybe "murdered out" isn't the way to go on this project.
The cars and trucks I've owned have been black (CRX), red (Integra), red (944), red (S2000), black (RX7), black (F150), black (Ram 3500), red (240sx),  black (another 240sx), black (Viper), red (Tundra) - heck even the Camaro was red when I bought it.  So the color choice should come as no surprise...;)
...
Right?
...
Nahhh...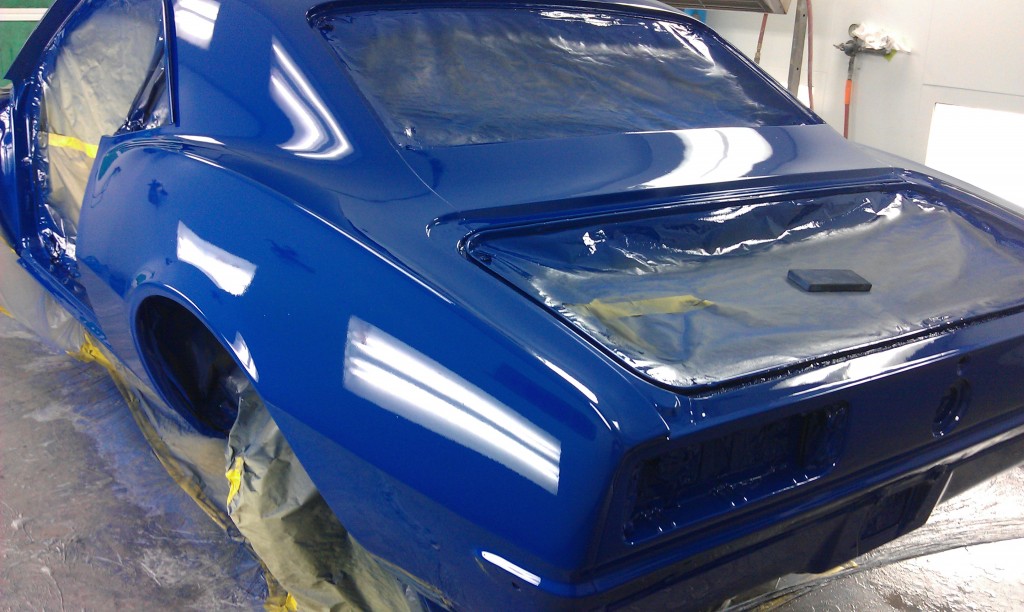 Duhhh, it's a Penske/Donohue Sunoco clone after all.  Here are some more: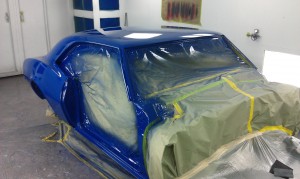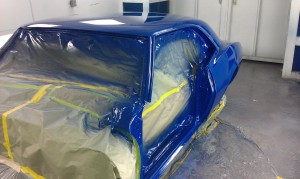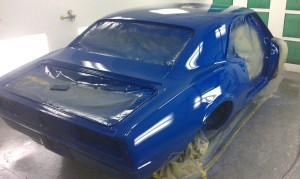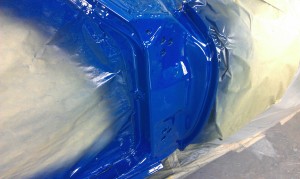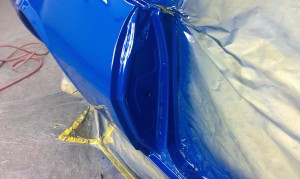 Always thought the first-gen Camaro's flow from the C pillar into the quarterpanel was one of the nicest ever executed.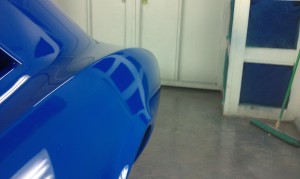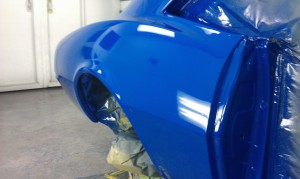 Looks a bit light here because of how bright it is in the booth.  Should be a bit darker in person.
Still need to paint the remaining parts, then there's a few weeks of assembly, wet sanding, and buffing.  With some luck I'll have it back by the end of the month.
Got the body reacquainted with the front subframe and rearend today.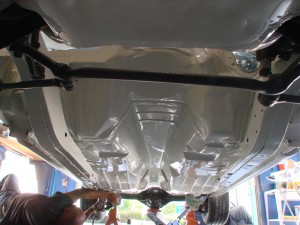 It all went pretty well, we made some good markers to help with subframe alignment so it could be brought right back where it needed to be.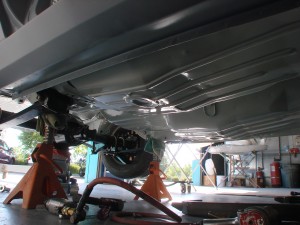 -
Aren't those wheels cool?  Ha!  The wheel/tire combo is actually about the right diameter overall, though I don't think I'll be going with 14's.  Lots of guys fixing up these cars are running brake rotors as big as those wheels!
Will be time to get the real rolling stock soon.  I think I've decided on the wheels, and also the tires.  Problem with ST is the stuff I buy today could be outdated for next season.  Oh well...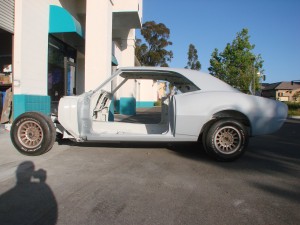 Getting an idea of the underbody and interior color yet?  🙂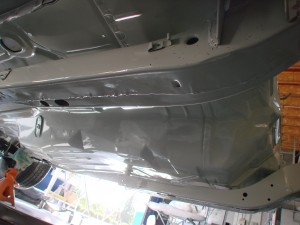 Inside...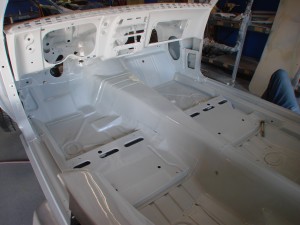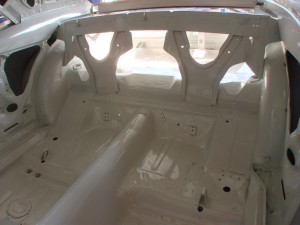 Firewall same color-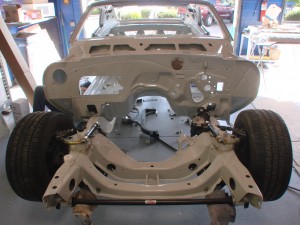 Trunk too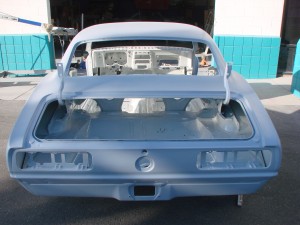 Tomorrow the doors, front end, and trunklid will get re-attached.  Then the "real" body work can begin, fixing all the highs and lows, and straightening/evening all the gaps.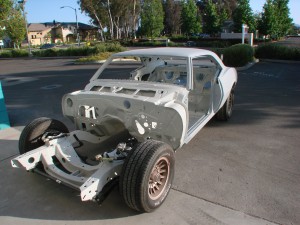 Can't believe how quickly this thing is coming along!!!
Pat Smith of Pat's Custom Cars has been making great progress with the car, I'm very pleased.  We've all heard stories of cars disappearing in the body shop for months and years, or how they've served extended sentences in "paint jail".  Well, he's only had the car a couple weeks and has already come a long way.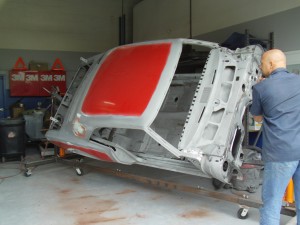 Back from the media blaster.  Didn't want to take off all the paint, as their tools can ripple the panels if you do the big unsupported areas.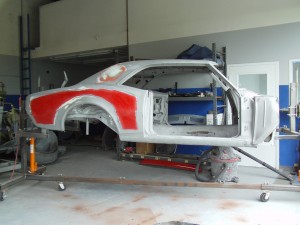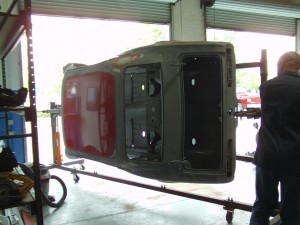 Below two pics show the lead work smoothing out the panels joins, from the factory.  They don't do 'em like that any more!  While we suspected the car was all original, nice to see it proven here.  Shows how lucky I got, to start with a car that still had all its original panels.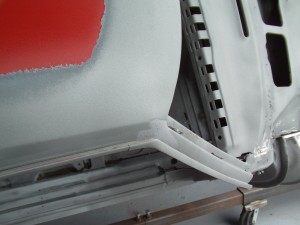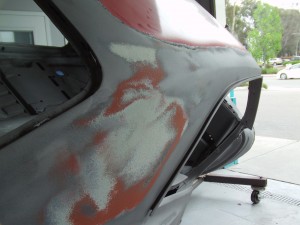 Now, it wasn't all perfect.  This thing was built over 44 years ago after all!  A little rust had eaten into the rear window surround.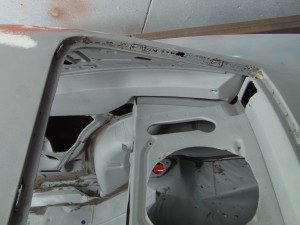 Similar thing at the bottom of the rear quarters, still quite minor in the grand scheme of things.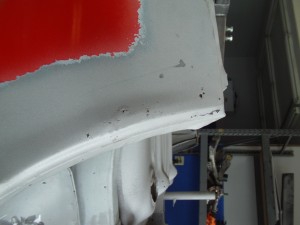 Interior down to bare metal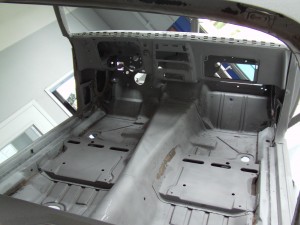 Remaining red paint removed from body.  Goodbye and good riddance to the DIY Resale Red paint job!  The previous owner's work made everything on the car red; when we're done here, there will be practically nothing red on the car.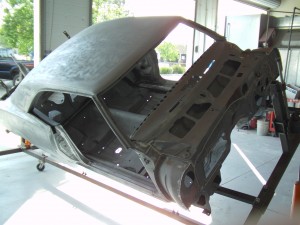 The above couple pics represent something of an inflection point.  The point at which the car as a whole, is at its most disassembled and raw.  Everything that happens from here, will be in the direction of getting the car back together.  It's like the universe just went from expanding, to contracting.  🙂
Here it is in its etching primer.  I really like this look, reminds me of the "body in white" tubs certain factories have been known to provide race teams.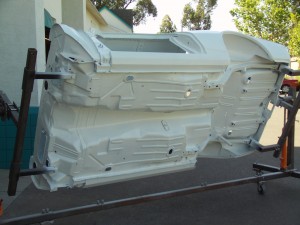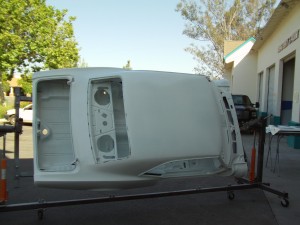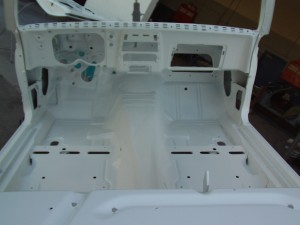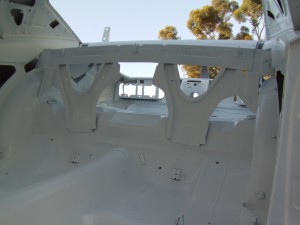 Here's the rear window channel's rust repair process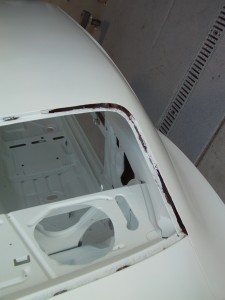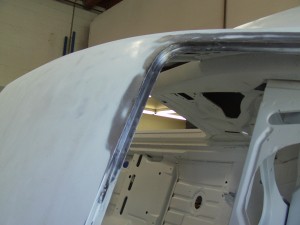 Rear quarters received new metal also.  Sanding on the body begins...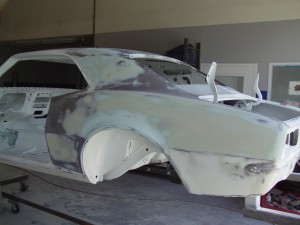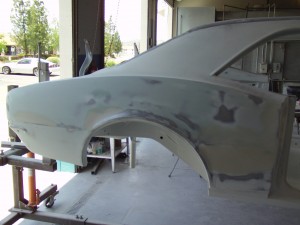 Rear wheel well beginning to get its new undercoating.  First gen Camaros all received thorough undercoating in their rear wheelwells, and some* undercoating in the fronts.  * - The exact amount and location in the front wheelwells, by year and build site, is still under debate amongst concours Camaro restorers.  It's a long story, but suffice it to say, it would be exceedingly poor form of me to show up with an ST car without its undercoat.  🙂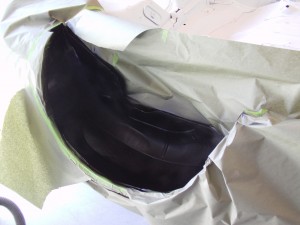 Rear axle gets its final paint.  It's the only thing in this post, presented in its final color.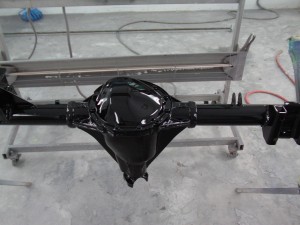 Took these myself this morning, car is in the booth for paint round 1.  Will explain what I mean by that, once this round is completed.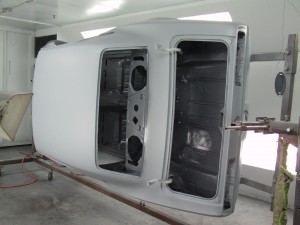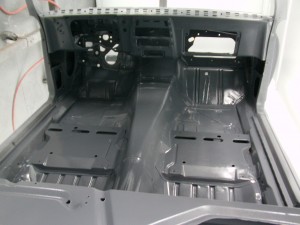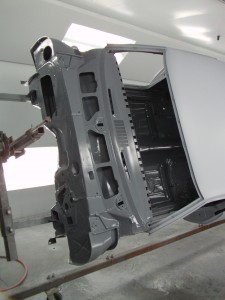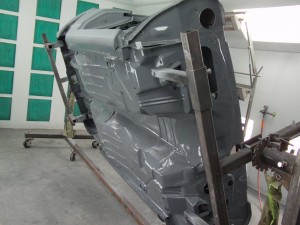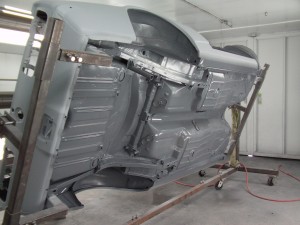 More to come soon.  One thing about an old car like this, is a lot of the interior is actually painted metal surfaces.  In contrast to newer cars where everything in the interior is plastic, vinyl, or leather...in the Camaro, the dashboard, the tops of the doors, the steering column, the glovebox door, and several other surfaces, are painted metal.   From the factory that stuff was most often black, but it doesn't have to be... 🙂
Not much commentary here, they're self explanatory.  Rotating the car around on a rotisserie will help ensure a minimum amount of media gets trapped in the nooks and crannies.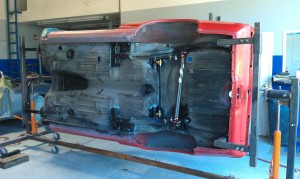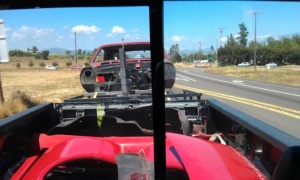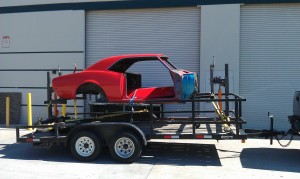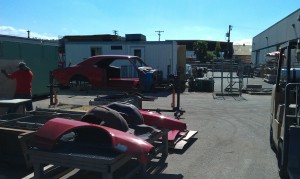 John Coffey of BetaMotorsports wrapped up his work a few weeks ago.  I've been a bit busy with other things, so super stud man Ken Motonishi went and picked up the car for me.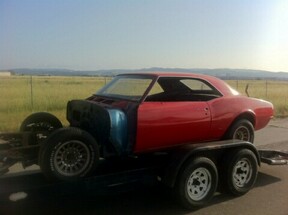 The girlfriend was a bit disappointed as I rolled it back into the garage - "It looks the same as when it left!?"
To some extent she's right, the car looks the same cosmetically.  What John did, was build a solid chassis and suspension foundation underneath the body - one I can build upon, and tune to work the way I want it to.   There were a few themes governing his work:
Provide adjustability to every aspect of the suspension.  The adjustability should allow for very fine increments of change, while also offering a wide enough range of adjustment to allow for a satisfactory setting in any of the situations the car might find itself in.
Minimize weight gain through Steelitis.  Every net addition would have to work hard to justify its existence.
Do all this while fully complying with the SCCA Street Touring rules
Here's a couple pictures of the front end as it sat-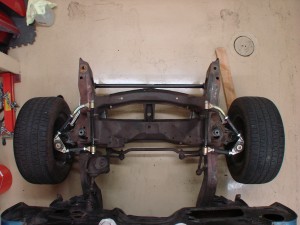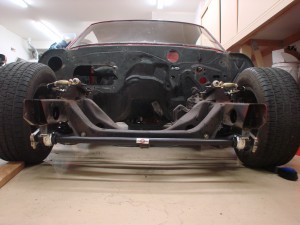 With this, the fabrication phase is complete, and phase 3, body and paint, can begin.
For this portion of the project, Pat Smith, a fellow member on http://www.pro-touring.com who owns a paint shop in nearby Ramona, will be doing the work.  Pat has done some really great work on classic Camaros and Mustangs, and is excited to be a part of this project.  I inquired with a couple different well-known shops in town, and Pat offered not only the best value, but also presented just the right sort of spirit and attitude I look for when looking for help.
Now when it comes to aesthetics, I have practically zero ability and am not afraid to admit so.  It is time to decide what color things should be on the car, and in so doing I intend to plagiarize to the greatest extent possible from the car that inspired this project.  I figure there's enough trails blazed in other aspects of the car, there's no need to reinvent the wheel here.  Besides, there is a singular look to these cars that evokes the awe in me.  That'll be the look we aim for.
Pat picked the car up last Saturday, and as of last night, had already made some good progress: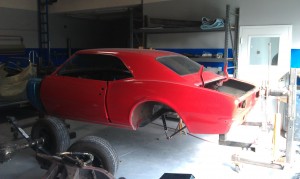 He got the front and rear suspension removed, and the car mounted up on the rotisserie.  That's one advantage of going with somebody that's done several of these cars before - they know them well, and have custom-made tools like the Camaro rotisserie, to aid in the job.
The car will get all its yucky red paint removed, then be thoroughly cleaned and inspected.  As best we can tell the chassis appears practically rust-free, the paint removal this week will tell us for certain.  From there it's on to primer and panel fitment, and finally, paint.  When it comes home from this phase, it is sure to look much much different!
I know a lot of people really like this phase of projects, so I'll keep the pics coming as best I can.  Getting a car to look good, and the panels to fit, is all voodoo and black magic, so I won't have too much commentary to add.   I will probably sort out the steering and knuckle situation while the car is being painted, so it can get rolled out of the shop with clean new Z28-spec stuff in place instead of the funky manual stuff on it now.