Pat brought the car back home last night.  Looks fantastic!  Can't believe I've owned this thing almost a whole year now.  I am extremely pleased with the work Pat did, and the timeline he was able to keep.  The body and paint portion of this project was the one I feared the most.  Heard so many stories of people getting their cars locked in "paint jail" for years, with bills piling up in the tens of thousands.  Not here!  He got the car done in 4 months, for the originally quoted price, which was about half of what some of the other big-name shops wanted.
The foundation is established, it's now up to me to get this thing put together over the fall and winter.  Need to do all the wiring, install and plumb the brakes, the fuel system, install the driveline, cooling system, and interior.  Tons of little odds and ends.  I figure it's about 75% done at this point.
As for aesthetics, wasn't really trying to reinvent the wheel here.  The one place I tried to get creative (the door handles) was really a mess-up.  The brushed aluminum Fesler door handles are really nice looking, but they don't go with the stock chrome trim elsewhere-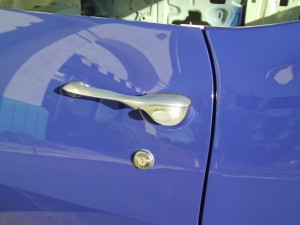 Looks ok by itself, but alongside the other trim, not as much.  Will probably just get a set of normal chromed pot metal handles.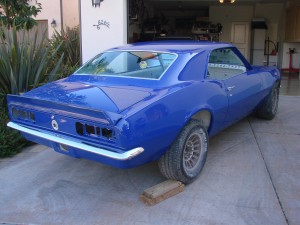 Some more outside…since it may not see daylight for several months, tried to get a few with it in the driveway-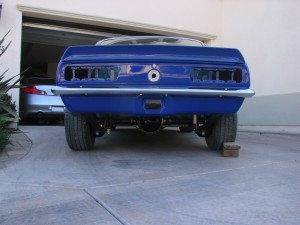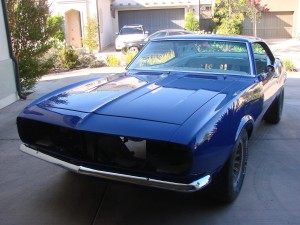 Here's a few inside the garage, its new home for a while-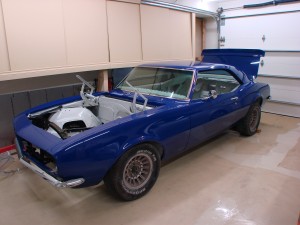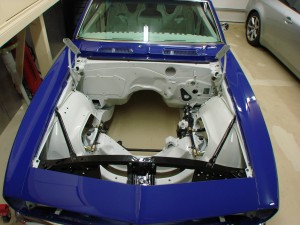 "FEED ME A 302" I can hear it calling… 🙂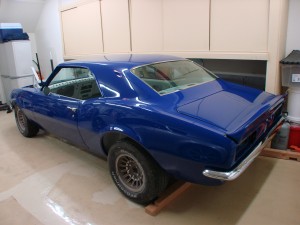 Compare to where it was a year ago: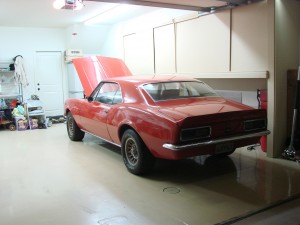 Come a long way, still a long way to go…hope I can remember how it all goes back together!  🙂