Have some time this Saturday night as I'm stuck here doing work-work, will try to use this opportunity to finish up my background story while juggling a few TBs worth of databases-
My family has always been into cars.  When my father was a young boy, the family traveled cross country to visit his grandfather on his farm in Pennsylvania.  It was a slushy cold February morning, and on the long dirt road to the farm, covered in half-melted snow, they spotted the grandfather, walking to town to shop, in ratty clothes and worn out shoes.  They picked him up and took him home, where he showed them around the ratty farmhouse.  The tour ended with a trip to the barn, where buried beneath layers of sheets and blankets, was a spotless '32 Ford.   Apparently my great-grandfather would rather risk frostbite and walk to town, than get his car dirty.
My grandfather wasn't much different.  He worked construction and didn't have a lot of spare money.  When my father was going to college at UCR, they built half the garage into a room, with carpeting, drywall, and AC, so he wouldn't have to share a room with his sisters.  The story goes that after graduation, as my father rolled down the driveway to leave for law school, my grandfather had sawed a whole wall off my dad's "room" and pulled his 260Z in right on the carpet, before my dad was even to the end of the street.
My father was lucky to be born in the early 50's in Riverside.  My grandfather took him to races at the legendary but now-defunct Riverside Raceway.  He got to see the golden age of car racing, the Trans-Am and Can-Am series, live.  He got to see Jim Hall's Chaparrals and Mark Donohue's domination in the Camaro and later in the 917-30.   He became a fan of John Morton and the BRE Datsun 510s.  His first car was a black 4-door '68, already in need of rebuilding despite only being a couple years old.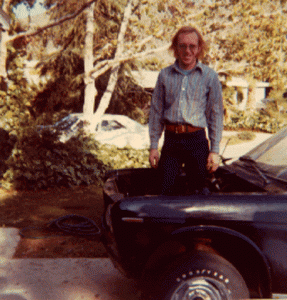 He'd seen an article on Pete Brock's own yellow 510 street car, and decided to model his first rebuild after it.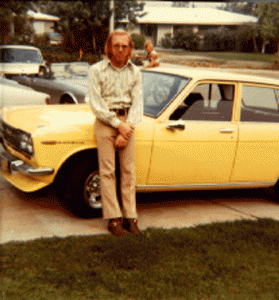 So some years go by and I'm born in 1977.   They chose the middle name Garrett, because it sounded nice, or after the turbos my father had seen kick butt at Riverside???
Pretty unexceptional childhood.  Some BMX and cross-country running.  Enjoyed watching Smokey & the Bandit.  My mom daily drives the 510 for the next 25 years.  My brother and I learn how to slide into the back seat, under the down-bars of the unpadded Autopower roll bar.
Get a job at movie theater and save up to buy first car, a 1985 Honda CRX Si.  Turned out to be a pretty decent choice, got kinda lucky.  Father insisted I autocross it, so I did, the first weekend after I got it-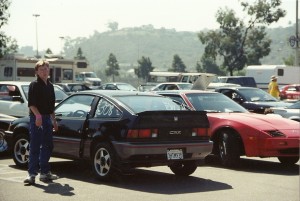 Pre-Lasik me at my first autocross, circa 1994, father's 300zx in background.
Some old-time autocrossers will recognize this Lotus-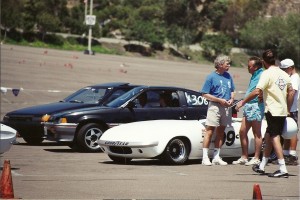 At the event was John Hayes, already a CSP National Champion in a similar first-gen CRX.  He was very nice and rode along with me, giving pointers.  I remember having a nice spin on my third run, despite being a teenager who already knew it all and was an "excellent driver" 🙂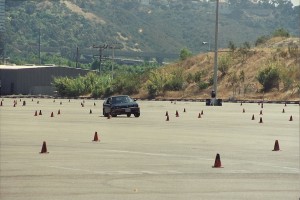 Mark Donohue won the first race he entered, a hillclimb event in his Corvette.  Wish I had a similar story but in reality I was probably mid-pack at best in the novice group.
I autocrossed the CRX for a bit locally.  Still in school, my extra income went to springs, swaybars, and some fancy Tokico struts.  Ironically, I quit autocrossing largely because there wasn't a place for my car to run competitively, as I didn't want to buy the special use "race tires" the serious guys were running on.  Why would I fork over a couple hundred bucks for wheels and tires I could only use one weekend per month, when that same money would buy a go-fast part I could enjoy all month long?  How my perspective has changed since then.
Some years pass.  At some point I swap in a twin-cam 16-valve Acura Integra motor into the CRX, after reading about it in Grassroots Motorsports.  I have the Integra motor rebuilt all nice with a port& polish, and also swap in its nicer seats and brakes.  The car is fun for a few more years but eventually I sell it and buy a Porsche 944.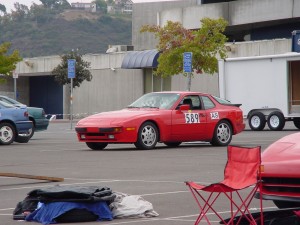 I only ever autocrossed the 944 once, in early 2000.  Wasn't so interested in racing, but it had been several years, and my friend Devin had just bought an MR2 Spyder he wanted to try out.  The 944 feels big and soft and not much fun compared to the CRX.  While I'm there I see a couple of the new Honda S2000s, both red.  They are FAST!  Not long after that on my way home from work, a silver S2000 passes me as I'm getting on the freeway.  Hearing that thing go by me at 9000rpm was insane!  My jaw dropped, I had to have one.
So the next day I buy an S2000.  Not to race, but because my jaw was still gaping from the impression the silver one had left the day before.  Not long after, I take it to an autocross, and that's when the bug really bit me.  This car was CRAZY fun to autocross.  Super-fast steering, amazing brakes, and a wonderfully crazy motor.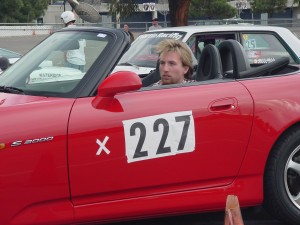 I get to talking with the other guys with their red S2000s, Jason Keeney and Gary Thomason, who won the National Championship in his S2000 the year before.  They both have race tires, are way faster than me, and competing in the big "national" events.  I decide this is a lot of fun, so I give it a try and prep my S2000 for national competition.
2002 was my first trip to Nationals.   I drove out on a set of Kumho Victoracers, finishing DFL at the ProSolo.  For the Solo, I co-drove with Joe Goeke, who had bought Thomason's S2000 which included its unobtanium blade-adjustable front bar and 28-series Koni shocks.  I put Koni 28's on everything now.  I think I finished about 42nd in the Solo, way back from Joe who ends up third to previous National Champ Andy McKee and some up-and-coming hotshoe named Jason Saini.
Around this time I attend my first track day with mostly all S2000s, hosted by Speedventures at the Streets of Willow.  The track is a bit different than autocross, with its higher speeds and lack of competition.  Although I couldn't afford to risk wadding up my S2000,  I end up being one of the quicker guys there.  Maybe due to the autocross experience.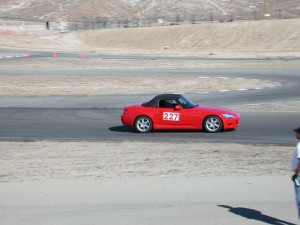 Autocross takes a back seat to track days for a while.   Pretty soon I get interested in performing some modifications to make the car faster at the track, but would be easily removable to make the car legal again for Stock-class autocross.  Having an interest in aerodynamics, I decide to build a flat-plate spoiler for the S2000: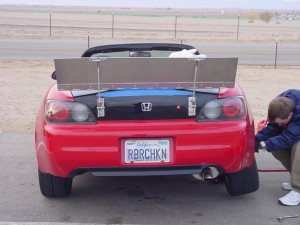 It gets lots of looks and plenty of laughs, but by golly if it wasn't fast.  Along with a front splitter, the car picks up a bunch of grip and stability.  A buddy crashes through a fence trying to match my lap time.
With that success behind me, I decide to go one step further and build a real wing.   There's a big track day at Laguna Seca coming up, and I want badly to beat the Laguna lap time of the 6-figure King Motorsports/Mugen S2000 that pesky Jason Saini had beaten us all up with the last trip there.  There was also a big multi-day event called the Open Track Challenge coming up, and with no rules, I figured we could use it there.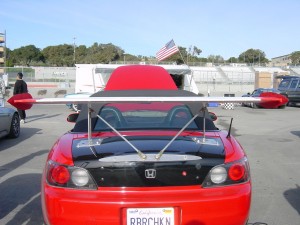 The wing is designed after the Chaparral 2E.  It's a huge symmetric airfoil with two angles of attack, controlled by the driver.  Hall and the gang used a third pedal (they used automatic transmissions) to actuate their wings, I used a switch in the cockpit to send a signal to a monster Duff-Norton electromechanical actuator, to move the wing between zero and 12 degrees attack.  At zero degrees the drag contribution from the wing  was near zero, as it contributed no lift or downforce; with a flip of the switch it would angle down 12 degrees and provide monster grip under braking and in corners.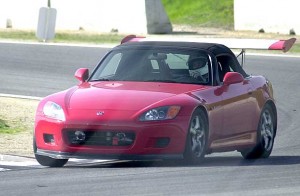 With the wing and splitter but otherwise Stock-class car, I get down to a 1:45, within just a few tenths of Saini's time in the King car, but just can't catch him.  As providence would have it, fellow CA S2000 owner Dave Kennedy, with the fastest S2000 around (gutted interior, Comptech supercharger, and Dunlop slicks) had a mechanical issue that put him out for the day.  As the last session rolls around, we talk Dave into letting me borrow his slicks for a session…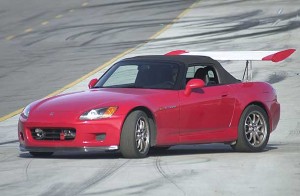 The S2000 was absolutely nuts on the Dunlop slicks, I'd never experienced grip like that before. The car was leaning over a lot more and making sounds I'd never heard it make.  I was getting fuel starvation with 7/8ths of a tank.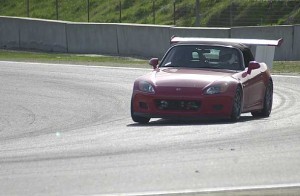 But the laptimes dropped, by a full two seconds to a 1:43, well clear of that midwesterner's time. 🙂
Later in 2003 we run the Open Track Challenge.  I get to drive two different S2000s, Doug Hayashi's street-tire shod "Touring 3" red car, with a brilliant suspension setup by Erik Messley, and I also get to drive Dave Kennedy's "Unlimited 2" silver S2000, now even more gutted, with bigger slicks and the supercharger still spinning.  We do really well in both cars, winning the Touring 3 class easily, and coming in second in Unlimited 2, beating out the fast Porsche of Wayne Mello and Rick White.  With some electrical quick disconnects, we swapped the moving wing between both S2000s.
The highlight of that week for me was running a 1:27 on the big track at Willow Springs in Kennedy's car.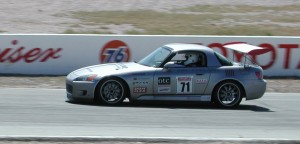 The track was a lot of fun, but it was expensive, and the competition just wasn't the same as autocross.  Sure, there was road racing, but I was always worried I'd have to bring home my painstakingly prepared car as a wadded up ball of metal, because of something someone else did.  Roadracing in someone elses's car…sure! 🙂
Around this time my friend Ken Motonishi bought a 1989 Honda Civic Si to compete in the sport's new "STS" class.  This class allowed lightweight suspension mods and mandated street tires.  He bought the car in May, I threw some parts on it, and in September, Ken won his first National Championship.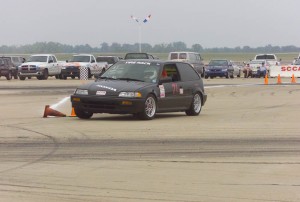 I went from being 42nd the year before in the S2000, to 4th in the Civic.  I liked this STS class, it allowed all the sorts of mods I had done to my CRX 10 years prior, without mandating race tires or any sorts of really crazy expensive engine mods.
Ken and I ran the Civic again in 2004.  I ran in the tougher STX class, so as not to compete against Ken for contingency dollars.  We switched from the Falken tire to the Kumho tires, as Ken had worked out a sponsorship arrangement.  Unfortunately the tires just weren't as good.  We had improved the car somewhat but still suffered, I ended up 10th and Ken was even further back.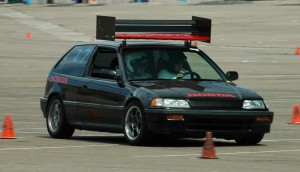 Some people think I might have done better without the wing I built for the Civic, not so much because I thought it'd make it a bunch faster, but more out of protest of how silly I thought STS's aero allowances were.  It's 7 years later and the rules are still silly, but at least they're getting better.
By 2005 I had lost interest in the S2000 despite its continued competitiveness and the Civic was getting a little long in the tooth.  Fortunately a couple friends offered co-drives.  For the Pro Solo series, Jason Uyeda let me borrow his drift toy, a Lexus IS300.  It was legal for the new STU class, and had most of the mods already done.  I did some fine tuning of the swaybars, alignment, shocks, and put in a less aggressive limited slip differential.  Even with only a couple local events with which to tune it, I won two ProSolo events that year in it.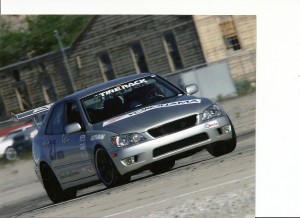 On the Solo side of things, I landed a crazy co-drive.  Gary Thomason had just put a monster motor in what was already a monster ASP C5 Corvette.  This is the car that really opened my eyes to what an automobile could do.  Everything I'd driven up to that point (and largely, since) paled in comparison to that car.  On most couses, you could NEVER use full throttle.  The slightest twitch on the throttle would send you spinning off into the weeds.  But when you were careful and did everything right, look out!  It was just amazing to drive something that immensely capable.  I pretty much vowed never to drive anything not RWD ever again.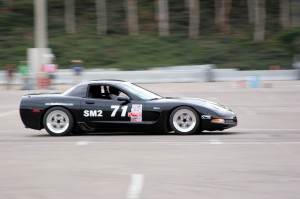 I never really drove it that well but was getting the hang of it by the second day of Nationals in 2005.  I ended up with my best result thus far, 3rd place (albeit a distant third) in SM2, behind that Andy McKee fellow yet again, and the winner Thomason.
At this point I'd been someone's co-driver every year at Nationals, and figured it was time to take better control of my own destiny.  At the time there had been a lot of complaints of how quick the Civics were in STS, and that no other car in the class could catch them.  It didn't help that Ken Motonishi had won again that year.
I had bought the family 510 from my mom around this time.  I spent a day in the junkyard pulling parts off a 240z, and bought some things from Ground Control, and did a basic ST prep to it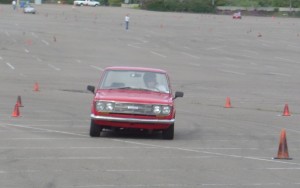 It was remarkably fast for not having been given much tuning, very close to the Civic's times.  I was convinced  in the merits of RWD, but the 510 would have been a dull STS car with no power.  I ran a track day with it at Laguna Seca, mostly just to say I did.  The alternator wasn't working and the whole thing was a bit scary, but I still mananged a 1:55.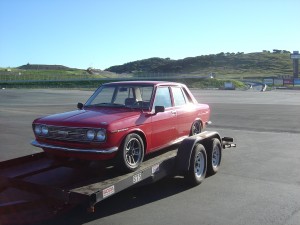 I decided the 510 wasn't the way to go, and sold it to my father, who began a multi-year resto-mod project (S15 SR20DET w/6-speed, flared fenders, 13″ brakes, 3-stage Lambo paint, etc., etc. ) that still isn't done.  I'm going to race him to see if I can finish the Camaro before he's done with the 510.
I'd been brainstorming some potential RWD STS car ideas with friends Uyeda and Thomason.   They had both owned 240sx's, and remembered them fondly.  Without putting much thought into what I would do with it when done, I decided to give one a go.  I figured the car would be great for the ProSolo series which I enjoy most, as it was RWD and torquey, so it could get off the start line better.  I didn't think the car would be very good in the Solo, as it was at a 650lb. weight disadvantage to the Civics.
To give it the best chance possible, the 240 got some really nice parts, like 28-series Konis from ProPartsUSA, a freshly rebuilt motor, and super light Volks wheels.  It was the first car I'd ever really built for myself and I wanted to do it right, and not give myself any excuses if it didn't work out.  I built it up for STS over the winter of 2005 and into spring 2006.  It won in its first ProSolo at Fontana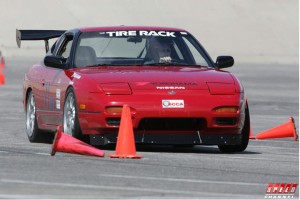 And again the next month at the Atwater Pro.   The car had a couple "unfair advantages", if you could call them that.  First, it was rear wheel drive and had a limited slip differential, and was basically the only car in existence that had that combination and was still legal for STS.  The other advantage was the 240 could leverage the newer and better tires.  I'd had a taste of the new Yokohama Advan Neovas tires the year before on the Lexus, and knew they were a cut above the Falkens and Kumhos the Civics were still forced to use.  Fortunately for me, the new tires weren't offered in the smaller sizes until after 2006.
The car was really dialed in by the National Championships, and I won the ProSolo Finale with a big margin, over 1.2 seconds.  That was my first National Championship of any sort and really felt great – the vision of the 240 as a ProSolo winning car had been realized.  Next came the Solo Champsionships, which is generally more talked about and more esteemed than the ProSolo champsionship.  After the first day I was a ways back in second place to Jason Frank in his Civic.  Jason drove really great on day one, but unfortunately it was found that his car was missing a bunch of sound deadening stuff for which there was no allowance to remove.  The protest committee decided to disqualify Jason and his codriver Craig, which was really harsh.  It was unfortunate too for STS as a class, as the year before, the quickest Civic had been DQ'd for having its catalytic converter in the wrong place by just a few inches.  The penalty for violating rules in autocross can be rough!
On the second day I managed to keep what was now a lead, and posted the quickest time in the class.  It was really a bummer situation for everyone, Jason and Craig I thought were great sports about it.  While I hadn't "won" the National Championship in the way anyone ever hopes to win, I did at least show the 240, and perhaps other oddball cars, could be competitive.
At this point I realized I had made the mistake of dumping a bunch of money into a car that nobody with a bunch of money would ever really want to own.  It was fun, modestly fast, and reliable, but now what?  The 240sx community was very into turbocharging their cars, as it came with a turbo from the factory, if you were in Japan.  I decided to "throw good money after bad" as they say, and go to Street Modified.
The Street Mod buildup of the 240 was a ton of fun.  The car became like a laboratory kit, where I got to learn about turbocharging, engine management, and cutting fenders.  I designed the turbo system, built all the charge pipes, and did the base tune on the AEM engine management system.  I cut the fenders and fit huge race tires, added a better limited slip, and did a bunch of things to get weight out of the car.  The end result was pretty nuts-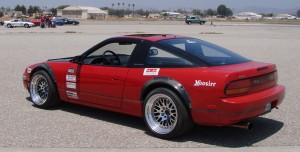 I'd also had an aero engineer in the UK design a 2-element wing specifically for my application and got to learn a bit about modern composites when building his design out of carbon fiber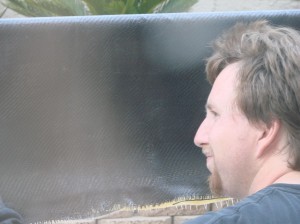 But the car overall was very high maintenance.   In an extreme effort to minimize lag, I had utilized a low-volume ice-water/air intercooler, with an enclosed fish cooler in the back seat.  This kept the volume of charge pipes very low and intake air temps super low, but was a huge PITA.  It would melt 10lbs. of ice in one run, and the water would be warm after two.  This required lugging around huge amounts of ice, dumping all the warm water somewhere, etc.
The car needed race gas, to be trailered everywhere, and just a lot of attention in general.  It was a blast to build but awful to live with, even if it was putting down scratch times towards the top of the class in its first outing.  Around this time I started thinking I needed to buy a new house, which is no small order in San Diego.  So instead of continuing on with the 240, I put it up for sale.  It ended up selling for not much money.  It was the first car I'd really built up myself, and I really learned the hard way what happens when you dump a bunch of money into a low-$ platform.  Oh well, I only lost about the equivalent of a years' worth of college tuition, and I think what I learned from the 240 was more valuable than a year at college… 🙂
Knowing I would be busy for a year or two with a new house and landscaping and all that comes with it, I knew I'd need a car that wouldn't need a lot of attention.  It had to be something I could get in, drive, put away, and not look at it again until the next race.  I'd also been eye-ing the Super Stock class for the past couple years, ever since Matthew Braun won it in 2006.  There was a super fast class with a ton of highly skilled drivers.  In keeping with my approach of using different cars, I decided a Viper would be the way I'd go.  I did some thrust and tire loading calculations, and figured the car could get in the ballpark with the C5 Z06, which was still an SS top dog.
Originally I'd wanted to get a Gen2 ('96-'02) Viper GTS, as it came with a proper clutch-type limited slip, and was a cooler looking car than the Gen3 ('03-'06) Viper.  However, fellow autocrosser Scotty White had his 2004 Viper for sale for a good price, so I drove up to Washington and got it out of his truck yard.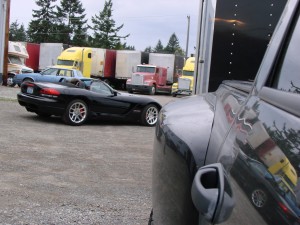 I didn't have much time to race in 2008 and only did a few events.  The car showed some competitiveness, even though all I had time to do was build it a custom front sway bar and throw on some Hoosiers.  Gary Thomason ended up winning the class that year in his GT3 after yet another epic SS battle.
2009 rolled around and the landscaping was just about done, so I turned to giving the Viper some attention.  I again worked with ProPartsUSA to put together some 28-series Konis.  I got last year's and many-multi-time champ Thomason to co-drive with me.  We didn't do so well at El Toro, due to adjusting to the Kumho tires Gary was able to provide.  The shocks went on the car after at El Toro, and it was transformed for Wendover.  The car became a slaloming machine, able to dance through the transitions, of which there were many.  Gary showed his prowess and won in Wendover by a big margin.
For 2009's Nats I had another trick in mind, to switch from Kumhos to an even bigger Hoosier than I'd tried before, a monster 335/30-18 front.  The car was just amazing with that tire setup, and after the first day, Gary was in a close second place, I was not too far back in fifth.  We'd been scrambling to make some adjustments for the new tires, and were all set to rock on day 2, when it rained.  The first few drivers got dry-ish runs, and Gary, driving first, managed to hold on to second place, but the course was soaked by the time I ran.  What bad luck!  I think I took it okay, as I had been the recipient of some unusually good luck in 2006, and that sort of luck seems to have a way of balancing out in the end.
2010 started off well with a strong showing at the SD National Tour, where I would have won the class if I'd run in it, but had to run elsewhere due to scheduling conflicts.  Was a close third at the El Toro Pro, couple small mistakes kept me from winning.  I was starting to learn that SS wasn't a class where you could have mistakes and expect to do great.  Wendover was even worse, as the tires were a bit past their prime.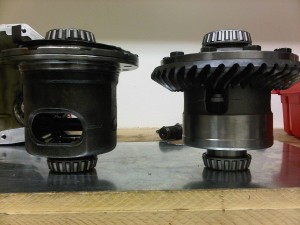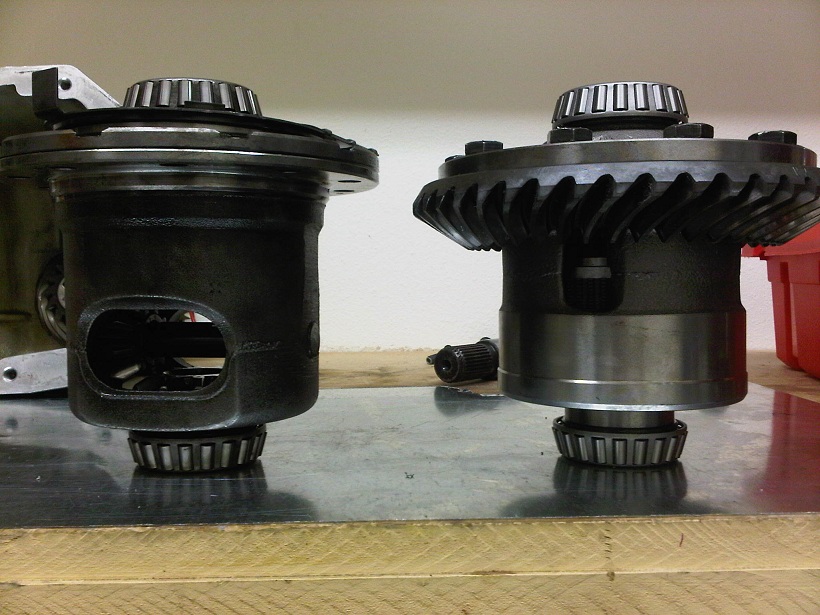 I had some more good luck of sorts in August, I was contacted by Mark Jorgensen of Woodhouse Viper in Nebraska, letting me know that Dodge had decided to hear my plea, and grant supercedence on the diff for my car.  I'd been lobbying with Dodge and SRT pretty much since I got the Viper, to issue a part supercedence, allowing the Gen3 Vipers to replace their limited slip diffs with the much-improved Gen4 part.  We don't have any sort of update/backdate allowance in Stock, but are allowed to go to revised parts when the manufacturer issues a supercedence.  I had the part in the car within two weeks of the issuance, and could tell it was much improved.
Day one of Nationals 2010, I ended up making one single, but big mistake, that would end up costing me the championship.  I had to stand on a run that was about 7 tenths slower than my time should have been.  I was still in the hunt, but day 2's course was much more narrow and transitional, and I knew I wouldn't be taking home the jacket without going into day 2 with a lead.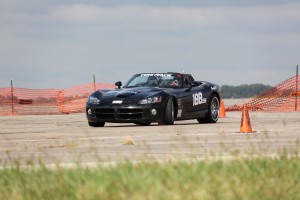 At least day 2 went well.
My first run that day was the best I'd ever driven the Viper, and maybe the best I'd ever driven anything.  It still wasn't as fast as Matthew in the Elise, but moved me up to second place, a ways ahead of third.  For the first time ever I felt like I was in the "fast guys club".  While not a perfect ending to the Viper chapter, it wasn't a terrible way to end things either.  The Viper sold quickly for its full asking price and went straight from Nationals to its new owner in Texas.
I've got some time again to work on cars, and am looking forward to building the Camaro.  I enjoy the ST level of preparation, and the STX class offers a great mix of cars with some really fast drivers.  This is a much longer longshot than any of the oddball cars I've done before, but the tinkering aspect is really my favorite part of the sport and at the very least, this thing should keep me engaged for quite some time.