Initial disassembly
Did some dismantling of the car today, while the Seahawks dismantled the Chargers.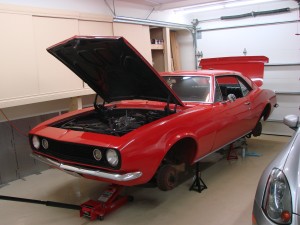 Some "before" shots of the front and rear driver-side wheelwells.  The front drums, at least they're finned! Ha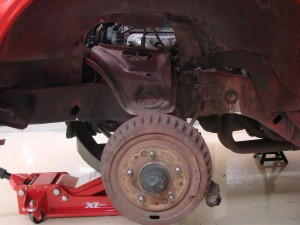 The rear axle looks lonely floating out there in space on its mono leaf.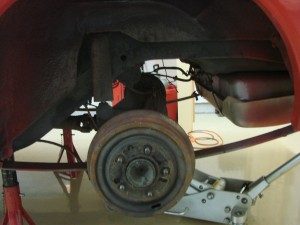 I'd anticipated replacing everything mechanical – engine, transmission, rear end, suspension, steering, brakes – as part of either the Z28 conversion, or as part of the STX upgrades.  One area that will need more attention that I anticipated is the interior.  Was hoping to salvage some things, and from this picture it doesn't look too bad-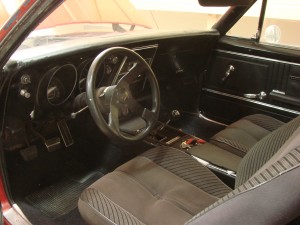 But really, everything in the interior is going to need to be replaced.  When the time comes to order those parts, it's sure to make the sales quarter for one of the Camaro restoration vendors.  The window cranks and door pulls are okay, and I might be able to sell the door panels and center console.  But everything else needs replacement, including all the little nickel-and-dime things.  The car has some kind of aftermarket wiring kit in it.  There's not a lot electrical to these cars, especially the way I'll have it optioned, so it'll get all new factory wiring harnesses.
The floors look perfect from underneath the car but pretty yucky from inside.  Fortunately they passed the "icepick test" (could Sharon Stone make a hole in the floorboard if she tried? if not, the panel can be kept) so they will just need to be cleaned and thoroughly de-rusted.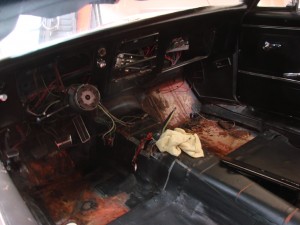 The car was originally Marina Blue, it was nice to see some of that color appear under the dash, and behind the hood hinges when removed.  The previous owner had done a DIY respray in an orangish-red, and with all the overspray and buffing he did, just about every exposed surface of the car, including everything in the engine compartment, has a reddish hue to it.
The front of the car came apart fairly easily.  To people who have worked on these old cars it's all old hat, but to me, I couldn't believe how beefy everything was.  Needed another hour or so to finish and get the fenders off, ran out of time.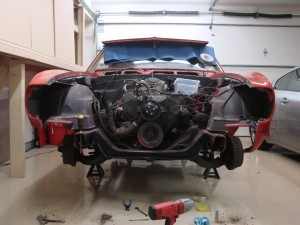 With another weekend or two's worth of work, should have the car fully apart and ready for the construction phase.  Gotta get all the way to the bottom before you can start the climb back up!