If we break this down into five phases,
1. Disassembly/teardown
2. Fabrication
3. Body/paint
4. Assembly
5. Tuning
Phase 1 is pretty much complete.  There isn't much more I can take apart, and still be able to roll the car on a trailer.  As it is I need to get the rear end back in the car.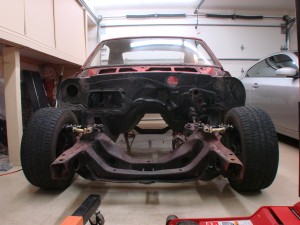 Car looks low here, mostly because the rear is still way up in the air.  There's actually 6 inches of ground clearance in this pic, at final ride height it'll be about 2" lower than this.  Those upper control arms are from SPC, which I chose for their adjustability.
Next week the car is headed to Beta Motorsports where owner John Coffey will be doing all the difficult fab work and Phase 2 officially begins.  I've known John for years, since we ran the Open Track Challenge back in 2003.  He's done a lot of really nice work for a number of roadracers and autocrossers in California.  If you're in So Cal and need some fab work done, give John a buzz - just please wait till he's done with my car first if you don't mind...:)
Check out the BetaMotorsports Youtube video
I've been chatting with John for several weeks on the project, and what started as 2-3 things for him to do, has grown to 10-11 things.  It's not that I've thought up a ton of new things, it's just that as I've collected some parts and studied the car more closely, I've better realized the extent to which the aftermarket's offerings aren't up to snuff.   There's a lot of parts out there that are "close", that just need a little welding to be made right, a couple other things will be almost scratch-built.  Even those SPC upper control arms shown above, I believe we'll need to modify to increase their adjustment range.  Nothing worthwhile is easy!
Rear brakes got here recently - from before, the stock (awful, worn-out) rear drums weighed 43 pounds.  Was hoping to save weight with my aftermarket brakes but it looks like I didn't-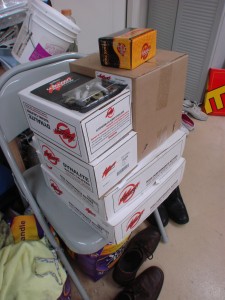 This pile of brake parts, everything needed for the rears, weighs 48 pounds.  There may be a few pounds in packaging there, but at best, my rear brakes will be a wash from a weight perspective.
I worked out what I'm hoping is a good first stab at the piston areas for the rear calipers.  They have to be "just right" in proportion not only to the front caliper piston area, but also to the master cylinder bore, taking into account pedal ratio and everything else.  Fortunately with a company like Wilwood, I have a few different caliper options with this mounting style and dimension, so I can swap calipers relatively inexpensively if I did this really wrong.
Rotor diameter is 12.19 to start with.  I know that's really disappointing from a bling-bling perspective, but my justification is thus:
1. For autocross, you really don't need monster brakes, there's not enough braking to overheat a reasonably sized system
2. Lighter is better, and the larger options will add weight.  I'm already several pounds over where I'd hoped to be.
3. This is the largest I can run and still hope to fit 15" wheels.  While I don't plan to run 15" wheels while autocrossing, the vintage Trans-Am cars always ran 15's, so I thought it would be cool to be able to slap on some old Minilite-style wheels or whatever, if I'm ever at an event where I want the car to look even more like the classic Trans Am cars.  Plus you never know what new tire sizes might come out some day - if somebody decides to build a radical tire that only comes in an ideal size for the car in 16" diameter, I wouldn't want to feel screwed out of that tire, or have to change the brakes to fit them.  The more wheel diameter options you have, the more tire options you have, and tires are the most important part of the car.
Speaking of important parts of the car, I hope to be picking something up this weekend that is certainly a very very important part of the car.  More to come there, maybe Sunday if it's ready.
In that pic above, the car is sitting on 9.5" long 5"OD springs,  a size Hypercoil and others label as "conventional" springs in their catalogs.  Below is one of those springs, next to a stock spring.  The stock spring is almost twice as long!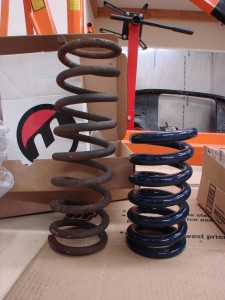 Happy Thanksgiving everyone!
Some of the parts needed for this build are getting harder to find, this is one of them.
The GM 12-bolt is an extremely robust rear-end with an  8.875" ring gear.  It is often compared to the ubiquitous 9" Ford rearend, the GM piece being a tiny bit less stout, but more efficient (less driveline hp loss).
I've been looking for one for a while, and one turned up on Craigslist.  The price was good, picked it up Friday.
It is a correct '67-built Camaro piece.  According to the owner, it had been sitting in storage for about 20 years, and then in his yard for the past several months.  Based on the dirt removed, by several months, he might have meant 120 months!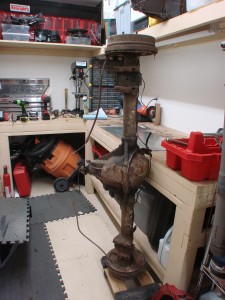 Inside the brake drums, an entire ecosystem was flourishing, all sort of spiders and insect carcasses abounded.  In this pic you can see the huge black spider that "owned" the passenger side drum-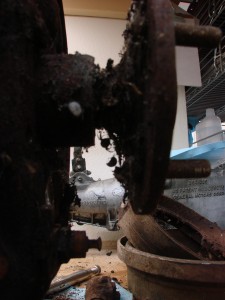 I don't think I should count all that dirt as weight reduction, pretty sure it wasn't there from the factory 🙂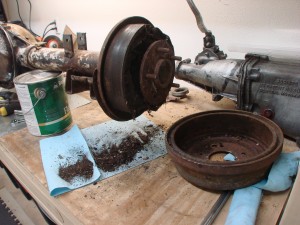 Getting this thing in shape is going to be a bit of work.
My plan was/is to get the car minimally prepped, so I could take it to a welder and have all the big on-car welding projects done.  I have taken a welding class, and have access to a good MIG, but don't trust myself to weld anything critical, like a live axle lateral suspension locator.
The lateral locating device will be attached to the rear axle, so the axle needs to be clean and ready for welding.  I also wish to package the device towards the end(s) of the axle.  The limit of how far towards the end the device can be located will be defined by the brakes.  Hmmmm...down the rabbit hole we go...........
So it looks like maybe I should get the rear brakes put together to ensure I don't get welded into a packaging dead-end.  Now, STX does have a "big brake kit" allowance.  Unfortunately, like many of the ST category's allowances, it is a rather Fisher-Price allowance ("My First BBK").  I can say that, having spent a few years on the STAC - aka the Street Touring Advisory Committee, the "subject matter expert" rules making/advising group for the ST category.  I get what they had in mind - the blingy cross-drilled stuff you see in the tuner magazines that are easy bolt-ons for popular cars.  Nothing exotic, no messing with the hydraulic system, nothing requiring any engineering on the part of the ST car builder, just bolt-on kit/kid stuff.
Now, there are plenty of "bolt on" kits for the first-gen Camaro.  However, none of them are really designed to work with the factory master cylinder, which is rather large (1.125" bore).  Those kits all come with some kind of late-model Camaro or Corvette master cylinder, often with a proportioning valve.
Can't change the master cylinder, can't change the booster, can't add a proportioning valve - at least, not in the classic fashion.  Some first-gen Camaros came with a proportioning valve, but that was only the heavier cars with A/C, not the Z28, and even if it did, I couldn't change it.
The flexible brake lines I can change, the calipers and bracketry I can change, and I can use any rotor equal to or larger than the diameter of the factory rotor or drum.  Even the smallest aftermarket stuff is about 12" (stock drums are 9.5") so the diameter won't  be an issue.  Since the calipers themselves are free, I was thinking I could use one small proportioning valve right at the inlet to each rear caliper.  Then I could say it is part of the caliper and thus legal.  I expect to receive emails from people saying "hey, that's not what they had in mind" shortly 🙂
But I'm not totally sure I even want to have a proportioning valve.  The Viper had one when I bought it.  I ran it that way for a couple events (nothing National, folks).  The car from the factory had shorter front tires than rears, and the previous owner raced it with equal sized tires all around.  Taking the car back to Stock, I removed the valve as it wasn't legal, or needed.  When the Viper was on the ideal f/r diameter tires, I thought its brakes were the best of any car I've ever driven, and a lot of that was the factory blessing the car with a healthy amount of rear bias.  When I ran a slightly (.6") taller front tire, it would try to kill the driver with too much rear bias.  So, suffice it to say, there isn't a ton of room for error in sizing the brake system, but the proportioning valve does give you a bit more leeway.
I won't go too far into designing a brake system here, but there are several key variables to consider.  In my case, some are fixed, some I know or can estimate, and some are free to change.
Fixed:
Master cylinder bore
Brake pedal ratio
Brake booster ratio
Proportioning
Known/estimated:
Static front weight
Static rear weight
Wheelbase
CG height
Maximum deceleration (use this to calc load on front and rear tires at max decel)
Front and rear tire diameter
Free:
Rotor diameter
Caliper piston area
...from all this there's a bit of thinking to do.  You can design a perfect system on paper, but if the parts don't exist out there in the world, it doesn't do much good.  Not going to have custom calipers made for this.  Have to see what is available from Wilwood, Baer, Brembo, Stoptech, etc., and piece together a working system from their available components.  Also have to consider - is the car going to get track time?  Autocross puts much less demand on brakes than does the track.  Most of my track experience is in the S2000, which had somewhat undersized and undercooled brakes, a constant problem.
If the car isn't going to see much hot lapping, then 12" rotors will probably be fine.  If it is going to be tracked hard, I'd probably want 14" rotors, as I plan to run only 18" wheels, and they'd provide the ultimate in thermal capacity.  The bigger rotors are heavier though, a disadvantage at autocross.  13" rotors might be a good compromise.  The larger diameter rotors also provide more brake torque with all else equal.
Speaking of weight, the stock rear drum brakes weighed 43 pounds between the two sides.  In my STX Z28 spreadsheet, was anticipating losing 7 pounds in rear brakes, would like to stick to that if possible.  Also have to retain some kind of parking brake, which adds weight.
Browsing Wilwood's brake kit chooser site:
http://www.wilwood.com/BrakeKits/BrakeKitApp.aspx
They ask about the axle offset.  Hmm.  Didn't have the axle apart enough last night to get this measurement, and even if I did, am I sure it would be right?  I'll be changing the limited slip, and didn't know if the axles in there were the stock size and length.  So one more trip down the rabbit hole, might as well get my limited slip now, with OEM replacement axles (no donuts here Civic guys! ;)), so I can put all that stuff together and measure my axle offset properly.  Will need the measurement to be final and exact regardless of whether or not Wilwood stuff is chosen.  They list three sizes, 2.75, 2.81, 2.91.  Again, not much room for error here!
Will go into a discussion about the limited slip choice later.  One somewhat unfortunate thing, is the GM 12-bolt isn't the hottest diff out there, so it doesn't have all the fancy choices some other cars get.  I've had excellent experiences with ATS/Carbonetic in the IS300 and 240SX, and the OS Giken has gained huge popularity in autocross circles as of late.  Still, there are some tried-and-true options for this car I think I can make work fine.
So I got things a bit further along today.  Didn't try measuring the axle offset, figured the bug guts might throw it off by .06" anyway.. 🙂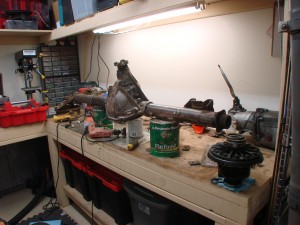 Whole thing covered in funk and some kind of white paint, got most of it off.  As bad as it looked on the outside, the insides look great.  Everything very straight and true, turning very smoothly.  It had a 3.07 open diff in it, so it's not likely to have seen much heavy use.  The gears all looked better than any of the Viper diffs I'd worked on!
Oh, and speaking of gears, one cool thing about old cars, is you had LOTS of choices-
http://camaros.org/drivetrain.shtml#AxleCodes
...and the Z28 could be ordered from the factory (unlike the dealer-installed cowl-induction or header options) with just about any of them.  3.73 standard.  These days, you have to order a whole big option package or something to get a different rear ratio, you never get to choose it individually.
This Jerry guy knows a lot about these cars.  He's been playing with them since before I was born and in doing so has amassed a pretty crazy knowledge base.  Jerry is to Camaros as famed autocrosser Andy Hollis is to the Honda Civic/CRX.
A couple things from Jerry showed up today.  First was his book,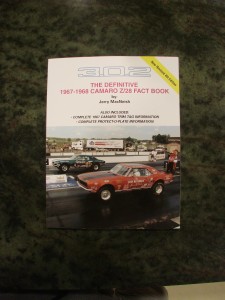 "THE DEFINITIVE 1967-1968 CAMARO Z/28 FACT BOOK"
Lots of good details, all Z28 specific, will help ensure I get all the little brackets and details correct.  Also confirmed (positively, yay!) a lingering gearing availability question I had.
Link to his books - http://www.z28camaro.com/publications.html
While you're there, check out this car:
http://www.z28camaro.com/unrest68.html
There's no shortage of myth and legend of what these cars could do from the factory down the quarter mile.  Some say they dogged off the line and couldn't break 15 seconds in the quarter.  Others brag of running 10's with slicks and headers.  Any time you hear stories like this, reality probably lies somewhere between.  Jerry's numbers on that page are pretty good on a car with only a couple little ST-ish things done from the factory.  This STX car when done should make a little more power and weigh a good 200 pounds less.  🙂
The other thing in the box was an original mint-condition intake manifold for the car.  It was supposed to go straight to the engine builder but what the heck, this gives me a chance to photograph it before the motor is all put together.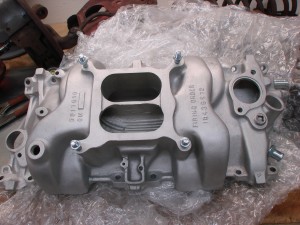 Can't wait to be done with all the dirty scummy parts, and start putting together the nice clean new stuff.
Made my first part order for the Camaro today.  The first question the vendor had was
"Is this for dirt or asphalt?"
I suppose if we still raced at Heartland Park Topeka, the answer might have been "both".   In this case I just gave him the part number.