Took the Camaro for its first real drive today, to get gas of course!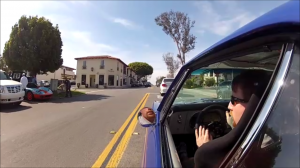 Suppose it is likely expected to see some kind of Ford GT thing blocking the driveway of your local 100-octane fuel station.
Speaking of which – ouch!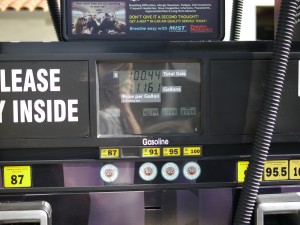 Put 10 gallons in earlier, so with this it's been fed 21+.  Surprised it took that much, and it wasn't even filled to the point of splashing out the back.  Must have burned more than I thought getting it tuned and taking it around the block, tank can only hold 18.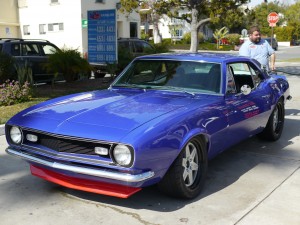 The river of fluid in the front of the car was it.  Being a newbie to old cars, I didn't realize you aren't supposed to fill the radiator up all the way.  As it gets hot, the fluid expands and dumps out the overflow tube.  In this case onto the ground, there is no overflow bottle from the factory.  In this case it's pretty safe because it's just distilled water + Redline Water Wetter, nothing slippery like coolant.  Since the car had just been driven and was then sitting, the extra heat soak caused some extra spillage.   Should be at the right level for this weekend.
GoPro was attached for the drive there – video here: http://youtu.be/MtqnUKTV_Zs – this is a pretty boring video, but…keep in mind this is the first drive of the car above about 20mph.  I was stressed out of my mind.  Every noise and vibration was a new one, and with everything new, never can tell if what you're hearing/feeling is ok, or something you forgot to tighten.  Suspect I'll have that kind of stress for a while.
Driving impressions…hmmm…
The brakes were a little weird with a sort of shuddering at first.  I think that was just the weird black stuff being taken off the front rotors.  That went away pretty quickly.  Brakes feel good now.  Haven't tested them to lockup yet, not sure which end will do so first.
The idle is too low, around 750rpm.  Factory spec is 950, adjusted the idle screw after getting home.  Stalled the car once at a stop sign, so embarrassing.  The car started ok at the gas station, but took several seconds to get going at this stop sign.  Thank goodness for that much bigger battery!  Will be investigating some kind of heat shielding for the starter.
Back tires feel a little slippery – got the back end to move pretty easily, but controllably.  Could be the grease and oils they've collected from sitting in the garage for almost 6 months.
There was only one pseudo-corner taken on the drive, and late in corner exit the rear made a banging noise over a mild bump.  Will need to spend some time underneath to ascertain root cause – it wasn't the shocks, they have almost 2″ of bump travel not used.  Could have been the axle on the frame, or the front of the diff hitting the driveshaft tunnel.
Need to check pinion angle and possibly play with rear ride height.
All major systems working well.  Alternator charging, oil pressure is good, and the cooling system is keeping temps where needed.  You can see all three (out-of-focus, shooting-while-driving photo, sorry) in the dash display below-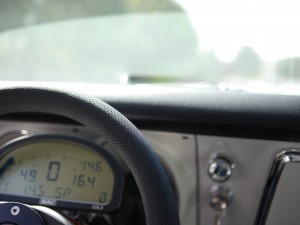 Speaking of which, I *love* the Motec CDL3.  Perhaps it is due somewhat to my day job as the IT Director for a software company – but I have a real appreciation for hardware and software pairs made to this level of excellence.  Yes, it was expensive, but this is a case where "you get what you pay for" works out favorably.  Need to get it pulling speed from the GPS, at which point it can also do a gear calculation to replace the big 0 in the middle.
Car is pretty loud – plan to get it in to the exhaust shop this week for some help.  While decelerating in gear, the steep rear end sounds vaguely like a siren, a little unnerving 🙂
Spring rates are pretty extreme for this chassis (~1500 front, 250 rear) but the car doesn't feel that stiff.  While it looks low, it really isn't – components like the headers and oil pan have good clearance underneath, tucking above the frame rails, making it so I can get in and out of driveways and such just as easily, if not more so, than a stock Viper.
The only shock setting I know is the fronts are at full stiff for rebound.  Everything else will be all over the map.  Feels like it needs more rear rebound – in some quick steering inputs I could tell the front tires were turning, but the car mostly just wanted to keep going straight.  Could be it has some front toe-in.
Where to go from here?
I like an autocross car to feel responsive, almost dangerously so, on the street.  Today this felt a lot more like a pickup – safe and sure-footed.  Perhaps that's because it shares more in common with a pickup than a sports car…
From here it's going to be a long way to go in getting it to work how I want in STX.  Nationals is only 5 months away, many  iterations of spring rates, shock settings, alignments, potentially shock valvings, wheel/tire tests and decisions.  The car is not likely to be very good early on, so for those following along, don't get discouraged by a particularly poor finish.   I am likely to get slaughtered at my first few events (which just happen to be big SCCA National races) but really I'll be happy if the car just makes it through the events ok mechanically.  Haven't driven at all since Nationals of last year (7 months back now) so some of it will be driver too.
Still a few things on the to-do list for the week to be ready for the weekend:
Headliner and interior panels
Exhaust – weld up mating flanges, exit out side or rear
Thorough nut-and-bolt check
Alignment
Shock baseline
Numbers
Apt to be tired by the time it gets here!