The Tour went poorly!  Could have been worse, but a lot went wrong.  As the car's first event in STR trim I knew not to expect too much – I think a lot of people have results like that early on with their projects and get discouraged. Gotta keep looking up!
Videos:
Speaking of up, decided to raise the rear of the car after the Tour.  The exhaust scraped over everything-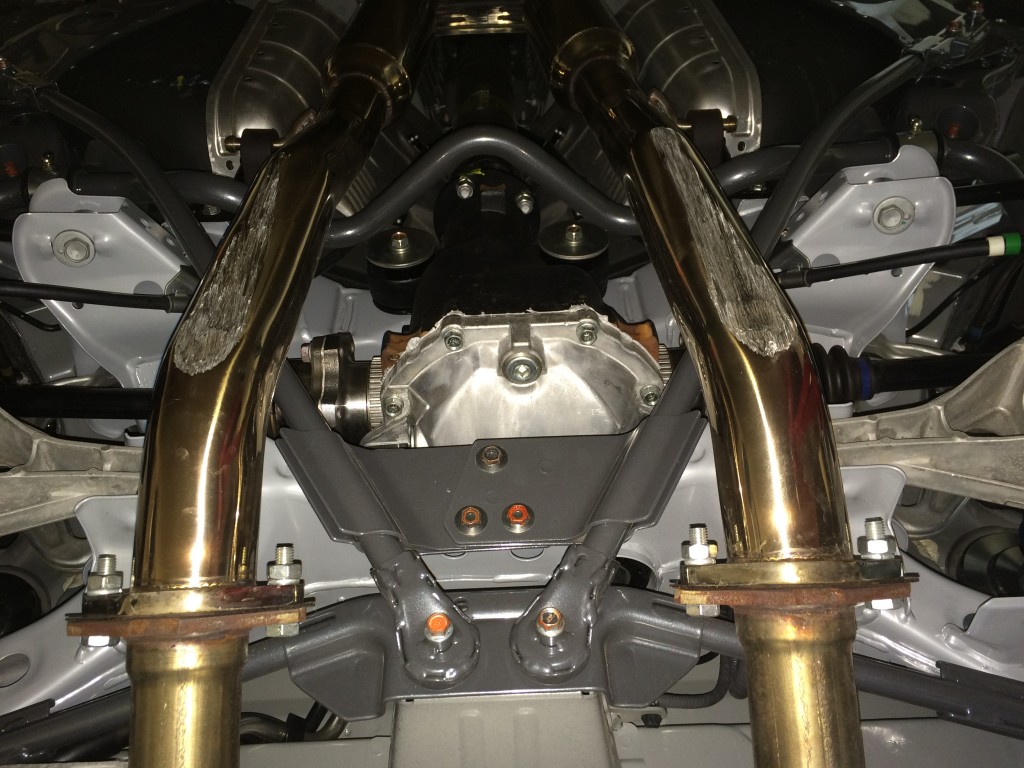 Raised it one turn, and upped spring rate from 650 to 700.  The car felt a little too soft in the rear, and some of the handling problems I'd been experiencing were based on understeer.  Curiously the rear bar had become disconnected on one end, must not have tightened that endlink nut enough – oops!!  Hooked it back up at full soft.  With 650's the car was "cushy", 700's is still a good ride, but no longer what I'd call cushy – hopefully the car can be made to work well at this rate, suspect it will get less comfortable as rates go up from here.
Took Friday before the Pro off work to get some things done with the car.  Started in the morning with a proper alignment at Clarence Brown in San Diego.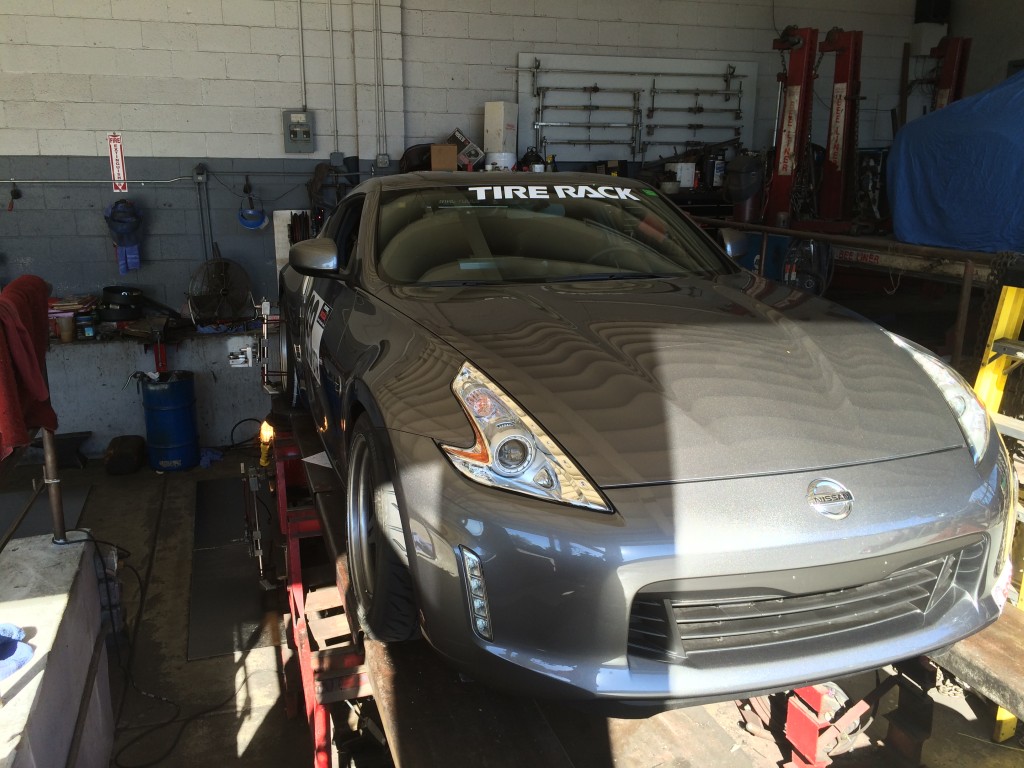 The crew there helped me out.  Left there with -2.5 camber rear and 1/8″ toe in (had been ~-2 camber and zero toe) and -4 camber front with 1/16″ toe out (had been -3.5 and zero toe).  Caster is about 5.5 degrees, wish it was more.
From there, up to Long Beach to see Shawn Church – Church Automotive Testing.  Hadn't been there in years (the SM build on the 240sx in 2007!), but glad to see he and his business doing so well.  Shawn started out mostly with Hondas but the popularity of tuning Evos, Subarus, Nissans, and lately the domestics, has increased demand for his services tremendously.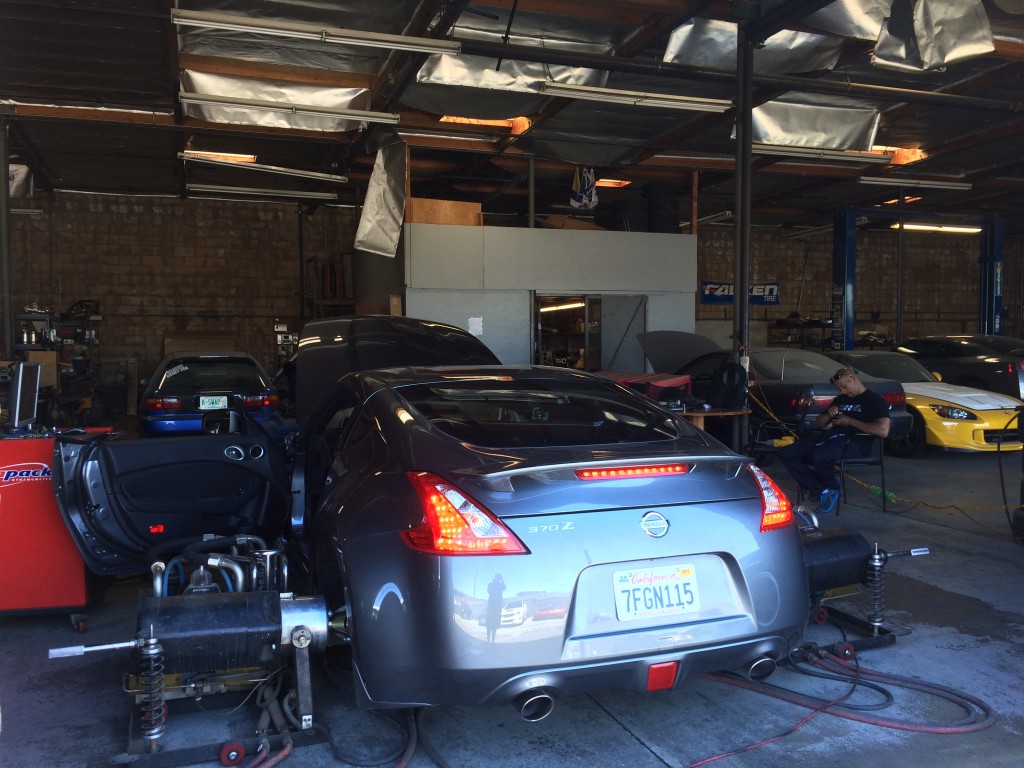 Tuning session was quick and went well.  The process produced a solid gain through the midrange and a bunch over 6700 or so.  The factory program went really rich up there; by flattening the AFR to just under 13.0, the car saw a huge jump in top-end power, moving peak up to 7350 rpm.
Redline was raised from 7500 to 7700rpm, another 1.5mph or so of top speed in second.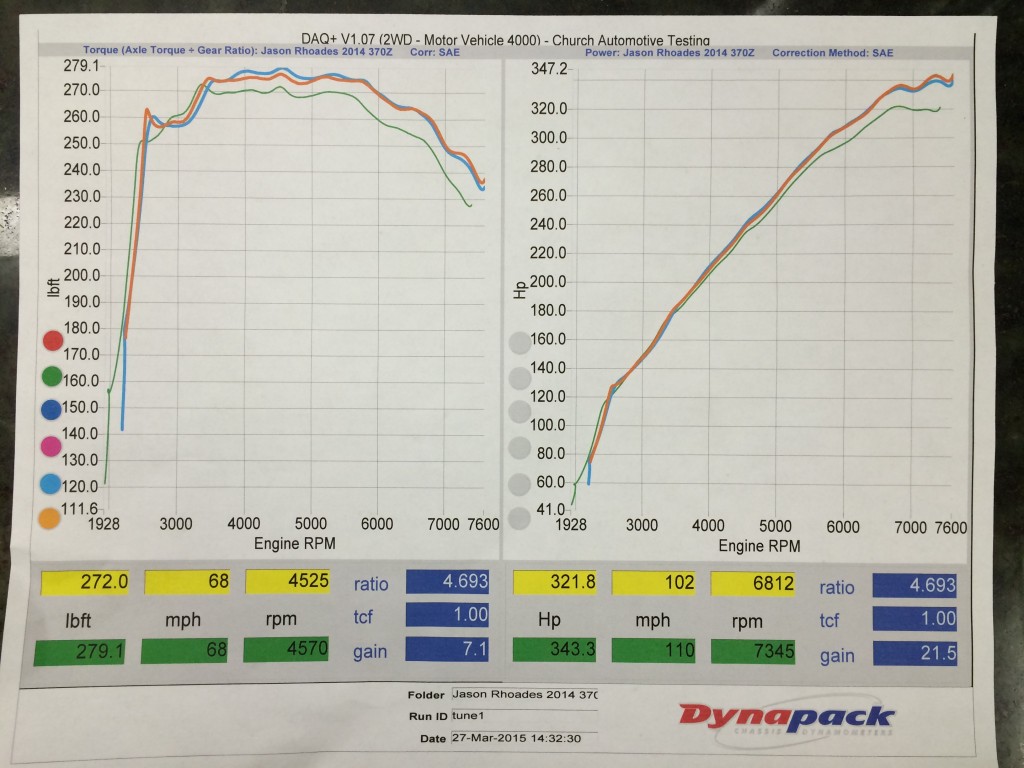 Which would come in handy at the Pro, where I'd end up hitting the limiter just once or twice.
Car was much better at the Pro, largely due to a change to the new Bridgestone RE71R tires.  They are a significant step up in capability from the Hankook RS3V2, especially in their longitudinal grip (braking/accel).  The Z's handling was much improved also, though there's still a bit to do there.
Saturday the event ran behind and heat 3 was in impound for over an hour and a half.
If you're going to be in the Impound of Eternity, it could be in a worse place than So Cal-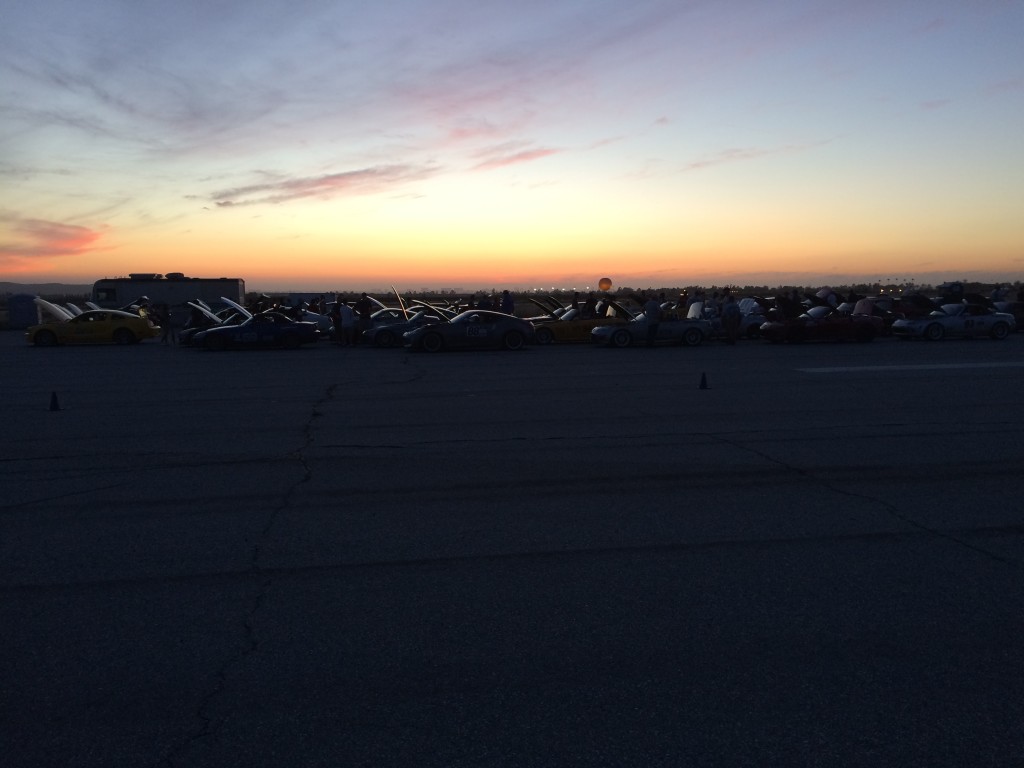 Videos:
Had a chance to weigh the car after Saturday afternoon's runs-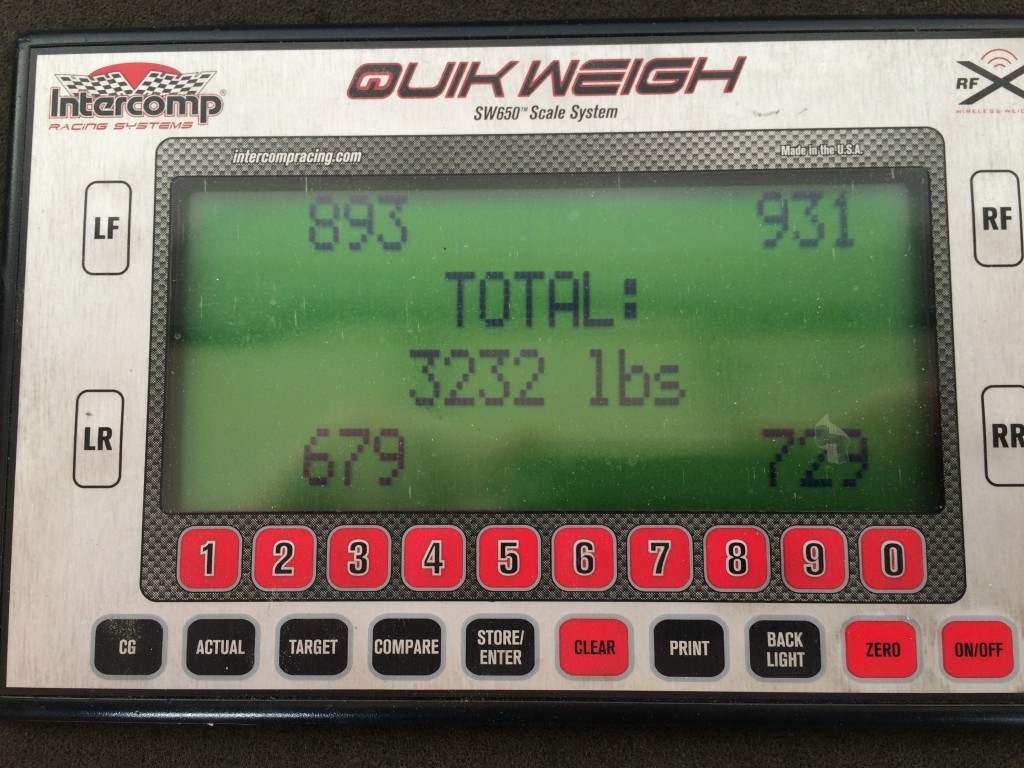 Not quite where I was hoping it'd be, but not far off.  Have 20lb. lighter front brake rotors (10 per side) and am now looking at headers.  So the car should ultimately get down under 3200, with a little less than 900 average on the front corners. 2 seats, extensive use of composites plus aluminum hood, doors, v6 engine…and it's 230 pounds heavier than that all steel and cast iron, 4-seat V8 Camaro.  Similar balance too, heh.
Even with all that weight, the skinny 245-width Bridgestones help up quite well.  Couldn't get 255's in time, but that was ok, these were still a huge step forward.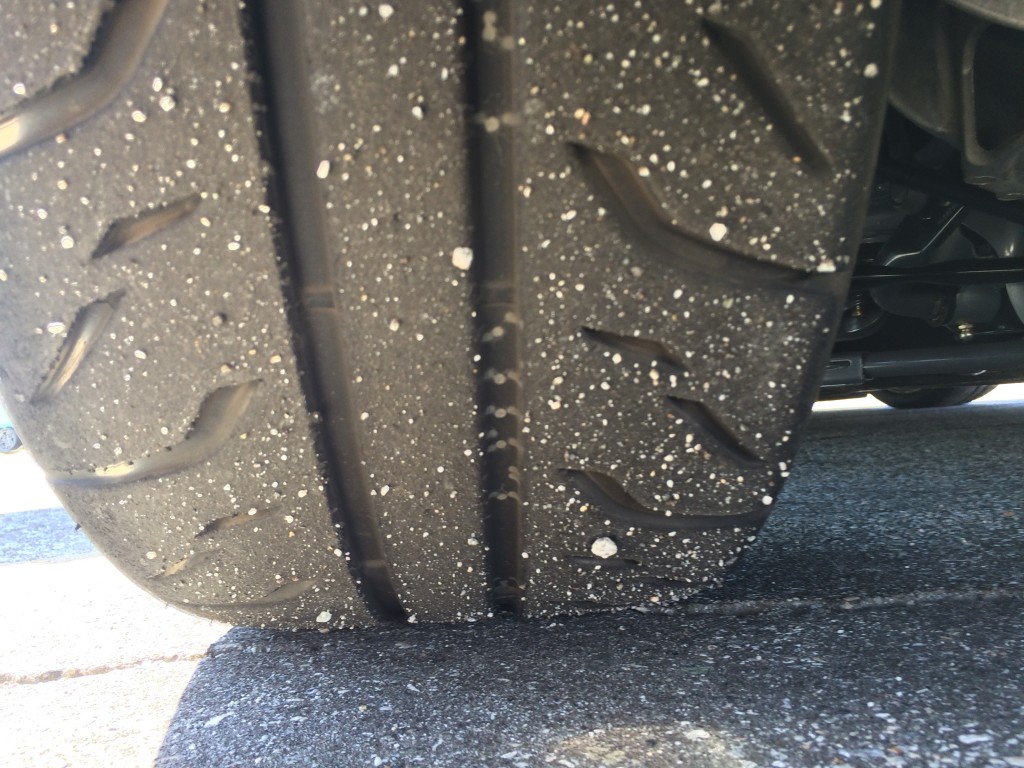 It's funny – before these tires, I'd felt the car made enough power, as I could spin them in second gear pretty much any time.  Now with the Bridgestones, get the feeling another 20-30hp would be completely welcome. 🙂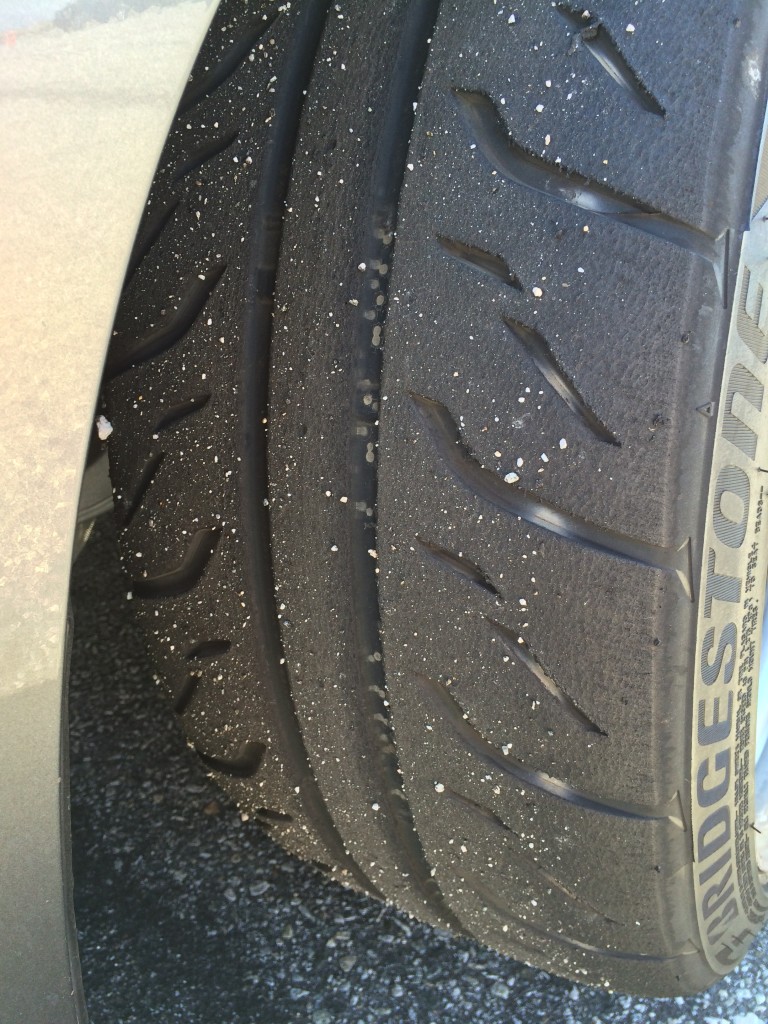 Ended up second at the Pro, pleased with the result, considering I ended up only about a half second off the winner Nick Bjoin, who won the Pro Finale the year before.  Especially when the data shows you left .6 seconds in one corner in the run you had to stand on 🙂
It was a good course for the car, but the result was encouraging enough (and the car so much fun!), will be proceeding with some of the phase 2 elements of the build this year.