Making some slow progress on the car of late. Fuel tank is in, wheel dimensions are all measured out (wheel/tire story to come later), and the wiring is about done.
Here's the interior as of today-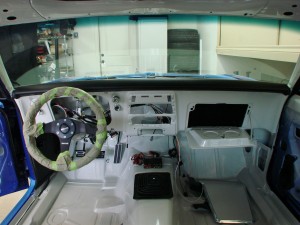 Obviously will fix the Momo center cap rotation before all is done. 🙂
Glove box is in, blanking panel for the center is ready. Hole for shifter is cut. You can see the carpet hanging in the back left, it needs to stretch out a bit before it can go in.
Still have much to do here. Have all new window mechanisms to install, can be arduous to get everything aligned. Gauges to do too, have a fun surprise in store there. Haven't really liked any of the gauge setups I've seen in these cars thus far.  Mine wlll be different, if nothing else…