Got the transmission back today from Harold's Automotive in El Cajon.  Like the rest of the car, it needed just about everything new - new second and third gears, new synchros, shift forks, and seals.
Made some marks at the input and output shafts to verify gear ratios-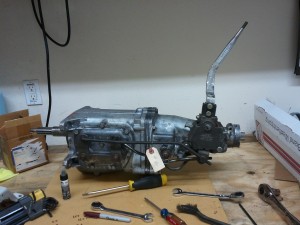 As I suspected from the drive home (now over 1 year ago!) first gear is the tall 2.2, making this an M21 transmission, the standard unit in the '67 Z28.  Apparently the M20 wide-ratio was available as an option.  Might seek one out if ProSolo launches with this tall first gear don't work well.
The other thing it could be is the fabled "rock crusher" M22 Muncie.  The M22 had a much shallower gear helix angle which made the gears stronger, but the transmission was very loud.
M20 and 21's have an average helix angle of 35 degrees, M22's have an average angle of 21 degrees.  This one's definitely an M21: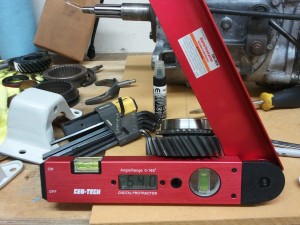 Got a call the other day from a fellow in Oregon, who was working on a 240sx, and found some paperwork with my phone number on it.
Turns out my car was bought by a family there, and the young man of the family has been campaigning it in their local drift series - winning all the events he's entered so far-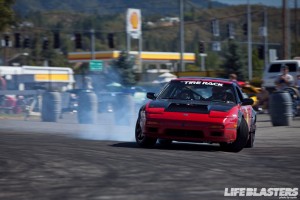 Car looks pretty good still, much as it did.  Wheels and tires are a bit narrower, and it's got a cage.  Still the same funky hood and Tire Rack sticker.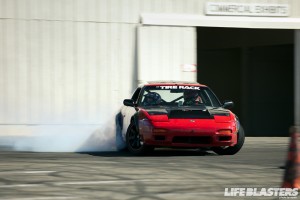 Too bad I never took it to Nationals - a 240sx won the SM Championship this year, I think my car could have won it too.  Oh well!  Happy to see it's getting some good use out there, and I asked the fellow to try to get the new owner out to an autocross to learn some real car control!  😉
Takes just a couple boxes, but here it is - just about everything needed for the interior.  Only pieces not here are the rear seat frames which I kept (and powdercoated) and the front seats, which will be lightweight race seats.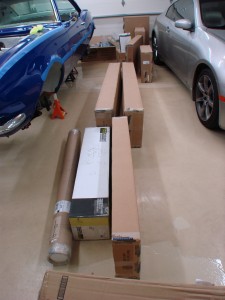 Unboxed everything tonight, parts seem of good quality, most are even GM authorized as official replacement parts.
The bummer - UPS says the packages weighed a combined 133 pounds!  Ugg.  Oh well, that's just one of the differences between an STX and CP car.
Initial progress over the holiday weekend.  Rear brakes (rotors and calipers) and subframe connectors got installed.
Before getting started on the connectors, decided to wax the underside of the car.  Not that this is something I plan to do often (or perhaps, ever again), but it should help keep the underside clean, easy to wipe off any dirt and grime that lands there.  With it all bare, this presented the last good opportunity for this extra protection before the car's underside starts to get "busy" with plumbing and other equipment.
View from the rear-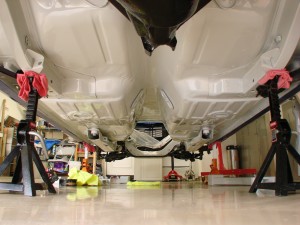 And from the front-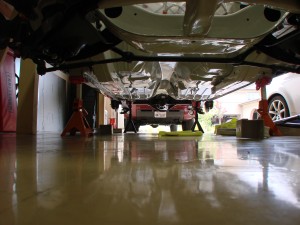 And here, post-installation: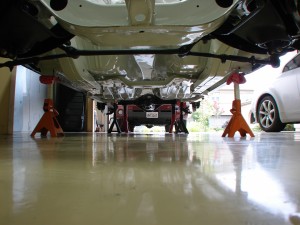 Can see they were painted the same light gray used elsewhere...figured they'd stick out if kept their original color: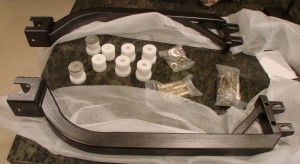 From the side: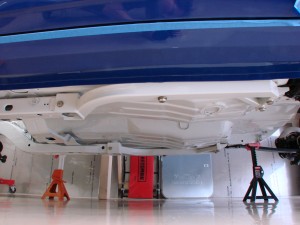 And the back: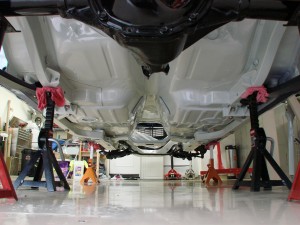 And the brakes.  I bought these a while back.  Decided to stay with a modestly sized rotor (12.19") as it allows for use of 15" wheels for the real vintage look, if the situation ever warrants.  For autocross, these are probably overkill, while being a little small for track duty.  Thinking I would like to run the car at the track a little bit some day, Laguna Seca and maybe Streets of Willow.  With its autocross geared rear end, it'll only be good for about 115 in 4th gear, not enough for most tracks.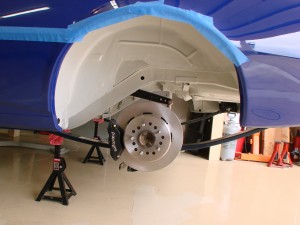 Compare to how things looked a year ago: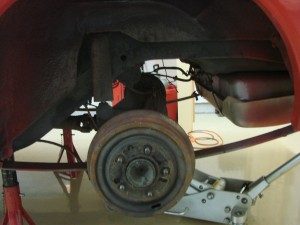 Another good thing about this kit, is there are several different Wilwood calipers that can mount in place with no other changes.  Because we don't have the ability to use proportioning valves in ST, changing calipers is a coarse way of adjusting bias.  These calipers are 4-piston, but one of the larger 4-piston units; if there's too much rear bias, I can go to a smaller 4-piston; if there's too little, I can step up to a 6 piston.
Made some big orders over the weekend, a complete interior is on its way, along with a few race goodies.  Particularly excited about the battery; wish this one had been out for the last couple ST cars I built!
Pat brought the car back home last night.  Looks fantastic!  Can't believe I've owned this thing almost a whole year now.  I am extremely pleased with the work Pat did, and the timeline he was able to keep.  The body and paint portion of this project was the one I feared the most.  Heard so many stories of people getting their cars locked in "paint jail" for years, with bills piling up in the tens of thousands.  Not here!  He got the car done in 4 months, for the originally quoted price, which was about half of what some of the other big-name shops wanted.
The foundation is established, it's now up to me to get this thing put together over the fall and winter.  Need to do all the wiring, install and plumb the brakes, the fuel system, install the driveline, cooling system, and interior.  Tons of little odds and ends.  I figure it's about 75% done at this point.
As for aesthetics, wasn't really trying to reinvent the wheel here.  The one place I tried to get creative (the door handles) was really a mess-up.  The brushed aluminum Fesler door handles are really nice looking, but they don't go with the stock chrome trim elsewhere-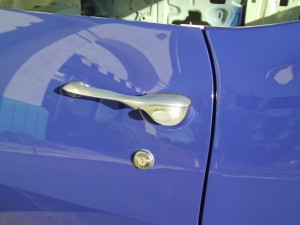 Looks ok by itself, but alongside the other trim, not as much.  Will probably just get a set of normal chromed pot metal handles.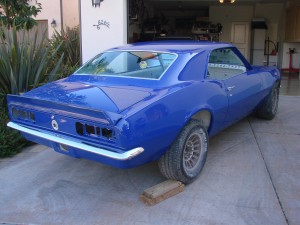 Some more outside...since it may not see daylight for several months, tried to get a few with it in the driveway-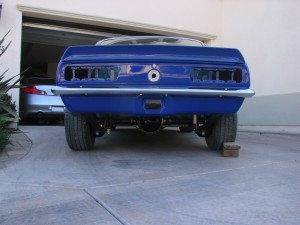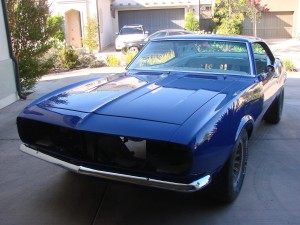 Here's a few inside the garage, its new home for a while-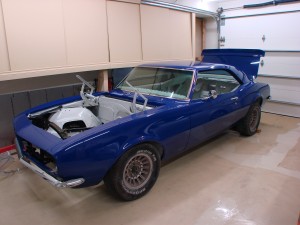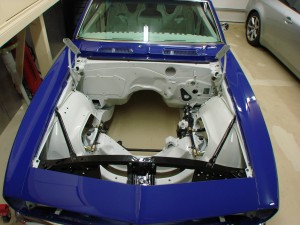 "FEED ME A 302" I can hear it calling... 🙂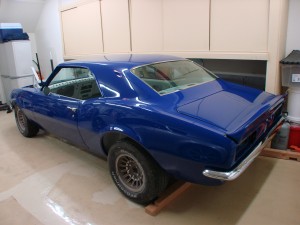 Compare to where it was a year ago: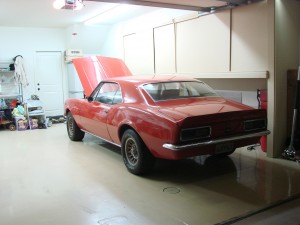 Come a long way, still a long way to go...hope I can remember how it all goes back together!  🙂