Initial progress over the holiday weekend.  Rear brakes (rotors and calipers) and subframe connectors got installed.
Before getting started on the connectors, decided to wax the underside of the car.  Not that this is something I plan to do often (or perhaps, ever again), but it should help keep the underside clean, easy to wipe off any dirt and grime that lands there.  With it all bare, this presented the last good opportunity for this extra protection before the car's underside starts to get "busy" with plumbing and other equipment.
View from the rear-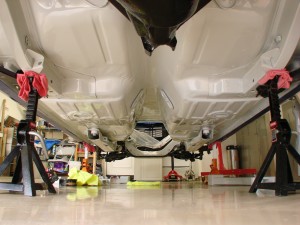 And from the front-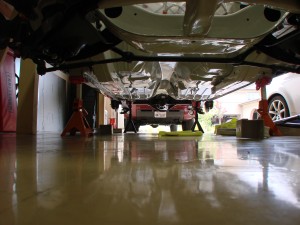 And here, post-installation: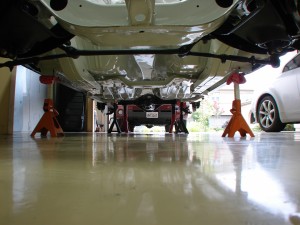 Can see they were painted the same light gray used elsewhere…figured they'd stick out if kept their original color: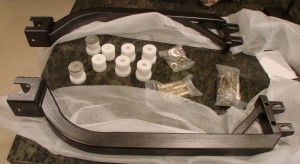 From the side: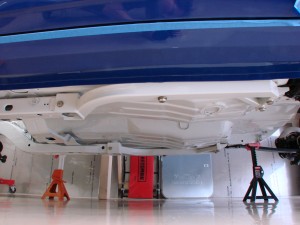 And the back: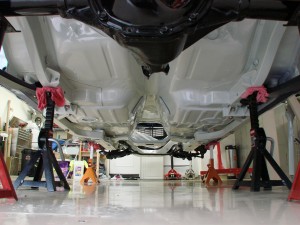 And the brakes.  I bought these a while back.  Decided to stay with a modestly sized rotor (12.19″) as it allows for use of 15″ wheels for the real vintage look, if the situation ever warrants.  For autocross, these are probably overkill, while being a little small for track duty.  Thinking I would like to run the car at the track a little bit some day, Laguna Seca and maybe Streets of Willow.  With its autocross geared rear end, it'll only be good for about 115 in 4th gear, not enough for most tracks.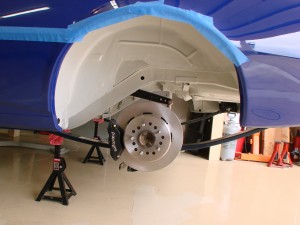 Compare to how things looked a year ago: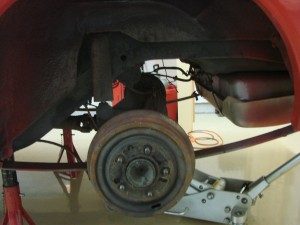 Another good thing about this kit, is there are several different Wilwood calipers that can mount in place with no other changes.  Because we don't have the ability to use proportioning valves in ST, changing calipers is a coarse way of adjusting bias.  These calipers are 4-piston, but one of the larger 4-piston units; if there's too much rear bias, I can go to a smaller 4-piston; if there's too little, I can step up to a 6 piston.
Made some big orders over the weekend, a complete interior is on its way, along with a few race goodies.  Particularly excited about the battery; wish this one had been out for the last couple ST cars I built!