Got the body reacquainted with the front subframe and rearend today.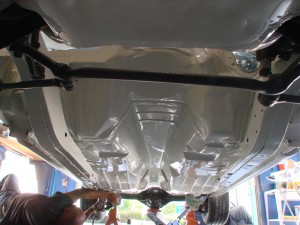 It all went pretty well, we made some good markers to help with subframe alignment so it could be brought right back where it needed to be.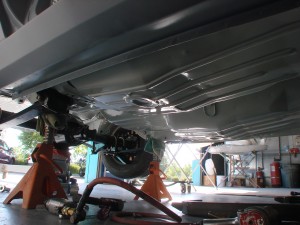 –
Aren't those wheels cool?  Ha!  The wheel/tire combo is actually about the right diameter overall, though I don't think I'll be going with 14's.  Lots of guys fixing up these cars are running brake rotors as big as those wheels!
Will be time to get the real rolling stock soon.  I think I've decided on the wheels, and also the tires.  Problem with ST is the stuff I buy today could be outdated for next season.  Oh well…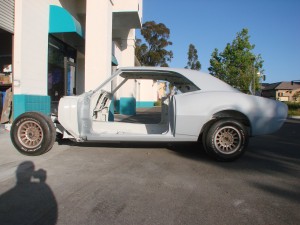 Getting an idea of the underbody and interior color yet?  🙂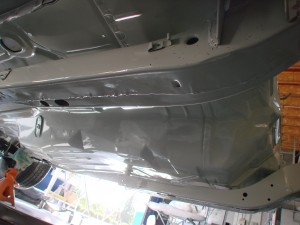 Inside…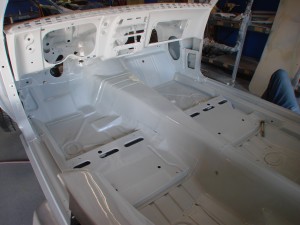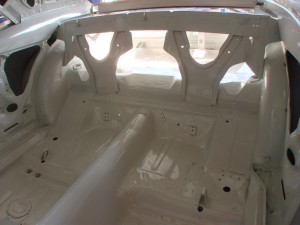 Firewall same color-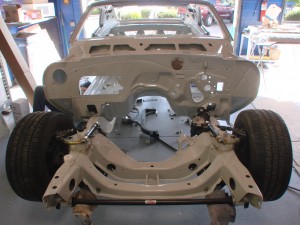 Trunk too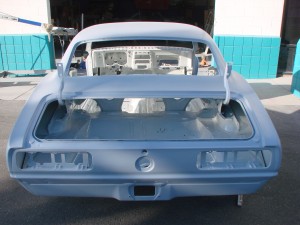 Tomorrow the doors, front end, and trunklid will get re-attached.  Then the "real" body work can begin, fixing all the highs and lows, and straightening/evening all the gaps.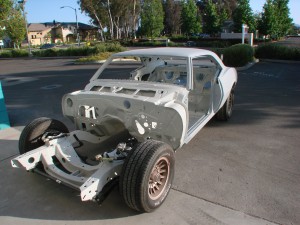 Can't believe how quickly this thing is coming along!!!
Still don't have the correct outer steering arms, and no pitman arm, but this is a glimpse of where things are going.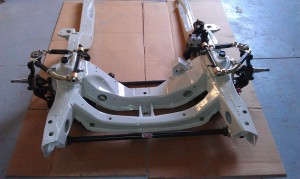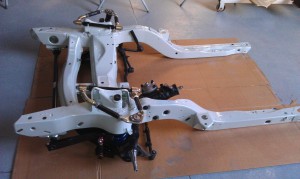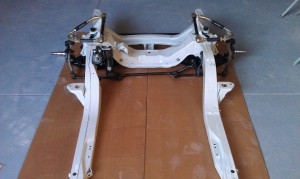 Nothing all that exciting really.  Can't seam weld the subframe, as lots of people do.  No Guldstrand mod (where the upper control arm mount points are re-drilled lower),  steering is all stock stuff.  Steering box is a rebuilt original 800 series, not the smaller and lighter 670 series most guys run.  It's heavy!  Power steering adds almost 30 pounds to the car, all on the nose where it's least desired…but I think with the big caster values I have planned, it'll be necessary.  The color looks almost white in these pics, though it's actually a very light gray, custom blended.  Perfect!
Pat Smith of Pat's Custom Cars has been making great progress with the car, I'm very pleased.  We've all heard stories of cars disappearing in the body shop for months and years, or how they've served extended sentences in "paint jail".  Well, he's only had the car a couple weeks and has already come a long way.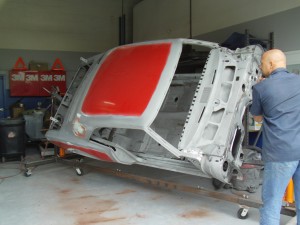 Back from the media blaster.  Didn't want to take off all the paint, as their tools can ripple the panels if you do the big unsupported areas.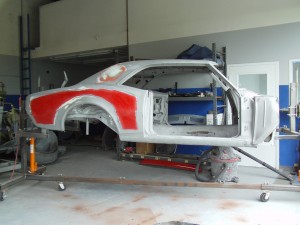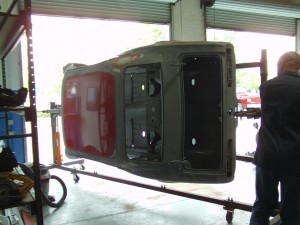 Below two pics show the lead work smoothing out the panels joins, from the factory.  They don't do 'em like that any more!  While we suspected the car was all original, nice to see it proven here.  Shows how lucky I got, to start with a car that still had all its original panels.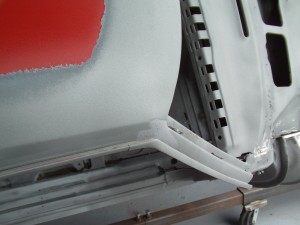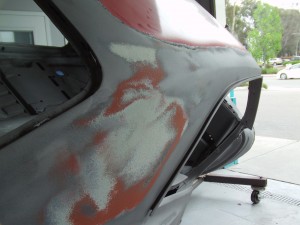 Now, it wasn't all perfect.  This thing was built over 44 years ago after all!  A little rust had eaten into the rear window surround.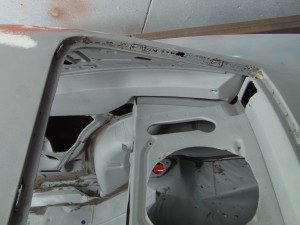 Similar thing at the bottom of the rear quarters, still quite minor in the grand scheme of things.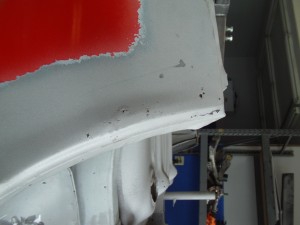 Interior down to bare metal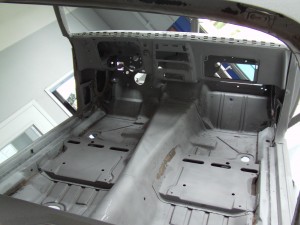 Remaining red paint removed from body.  Goodbye and good riddance to the DIY Resale Red paint job!  The previous owner's work made everything on the car red; when we're done here, there will be practically nothing red on the car.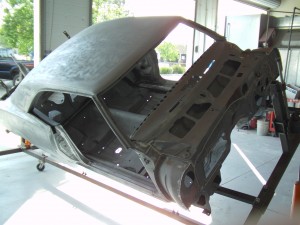 The above couple pics represent something of an inflection point.  The point at which the car as a whole, is at its most disassembled and raw.  Everything that happens from here, will be in the direction of getting the car back together.  It's like the universe just went from expanding, to contracting.  🙂
Here it is in its etching primer.  I really like this look, reminds me of the "body in white" tubs certain factories have been known to provide race teams.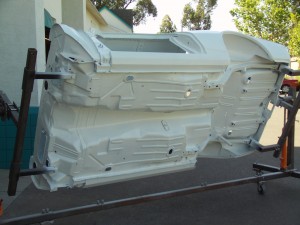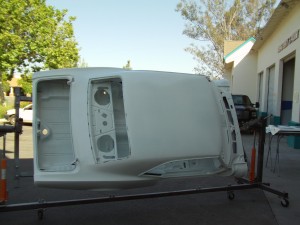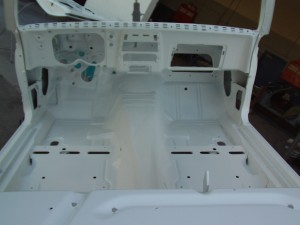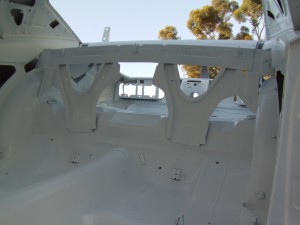 Here's the rear window channel's rust repair process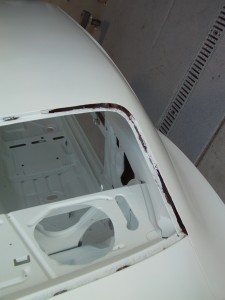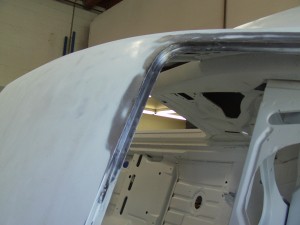 Rear quarters received new metal also.  Sanding on the body begins…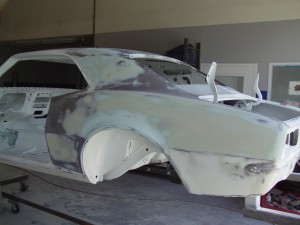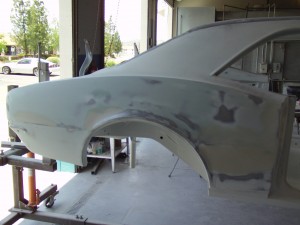 Rear wheel well beginning to get its new undercoating.  First gen Camaros all received thorough undercoating in their rear wheelwells, and some* undercoating in the fronts.  * – The exact amount and location in the front wheelwells, by year and build site, is still under debate amongst concours Camaro restorers.  It's a long story, but suffice it to say, it would be exceedingly poor form of me to show up with an ST car without its undercoat.  🙂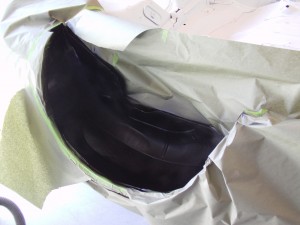 Rear axle gets its final paint.  It's the only thing in this post, presented in its final color.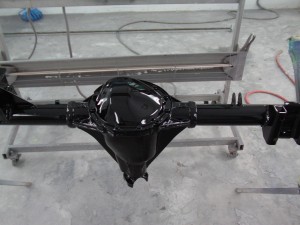 Took these myself this morning, car is in the booth for paint round 1.  Will explain what I mean by that, once this round is completed.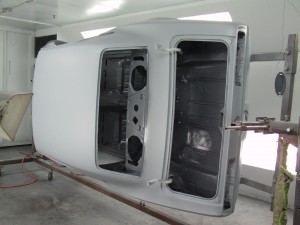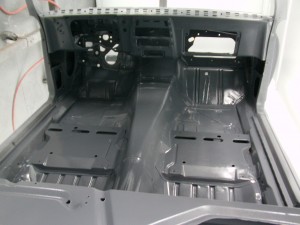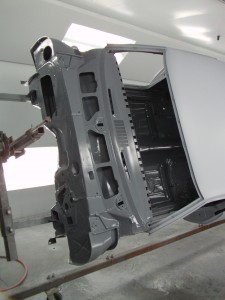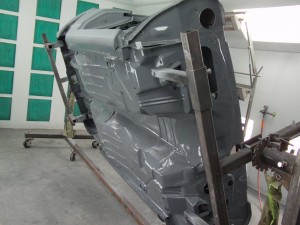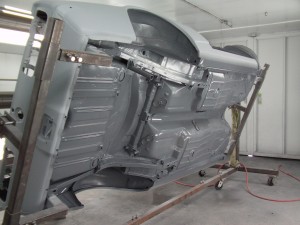 More to come soon.  One thing about an old car like this, is a lot of the interior is actually painted metal surfaces.  In contrast to newer cars where everything in the interior is plastic, vinyl, or leather…in the Camaro, the dashboard, the tops of the doors, the steering column, the glovebox door, and several other surfaces, are painted metal.   From the factory that stuff was most often black, but it doesn't have to be… 🙂