My buddy Jeff Cawthorne ran a best-effort tire test this past weekend of two new tires in the Extreme Performance Summer category - the BFGoodich G-Force Rival against the Dunlop Direzza ZII.  The test was conducted in his "Stock-prepped" (extra front camber, lightened exhaust) 2013 Scion FRS.  For those that don't know him, Jeff is a veteran racer who would likely have a few National Championship jackets hanging in his closet, if any of us could ever convince him to come to Nats...;)
Upon hearing word of the test I offered Jeff my DL1 data acquisition system, to get a peek at how these new tires are really working.  My Camaro will be making its maiden voyages on previous-gen tires, the Yokohama Advan Neova AD08.  Both of the tires tested are newer and quite probably better than the Yokohamas.
Below is a screen capture from the Race-Technology data analysis software, showing a comparison of the best Rival run (red) v. the best ZII run (blue).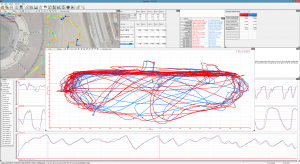 The main graph in the center here is an X-Y graph I do sometimes when I'm not looking to do any driving analysis, but instead see if a setup change made any difference in the car's limits.  The outer edges of this graph shape is sometimes called the "envelope" though to me the shape a lot of the time looks more like an acorn.  (More details on this here in CVD Part2)
This was Jeff's first time on these tires, in a car that was new to him, and using a DL1 for the first time - all at an event that wasn't really designed to let him execute a careful test plan in the way anyone would have wanted to.  As such, he wasn't able to get all the data he'd like, or take as many runs, under the sorts of conditions he would've liked.
On this day, the Rivals were a lot - 1.4 seconds on a ~65 second course - faster.  So there's not much to see in the data, the Rivals were faster everywhere, in all sectors of the course, and in all phases of the corner.  The limits appear a little higher, and the data indicates to me, Jeff had an easier time keeping the Rival at or near its limit.
However - the very next day, Jeff did something of a repeat test at a regular local championship event, and was a little faster on the Dunlop.  Didn't get data from that day unfortunately, but the actual differences are likely quite a bit smaller than the first day's results bore.
There's another event this weekend on a grippier surface, hope to get more data from it.