Phase 1 just about done
If we break this down into five phases,
1. Disassembly/teardown
2. Fabrication
3. Body/paint
4. Assembly
5. Tuning
Phase 1 is pretty much complete.  There isn't much more I can take apart, and still be able to roll the car on a trailer.  As it is I need to get the rear end back in the car.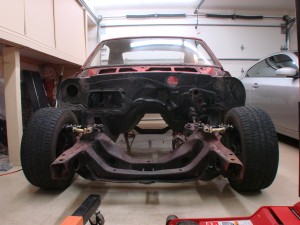 Car looks low here, mostly because the rear is still way up in the air.  There's actually 6 inches of ground clearance in this pic, at final ride height it'll be about 2″ lower than this.  Those upper control arms are from SPC, which I chose for their adjustability.
Next week the car is headed to Beta Motorsports where owner John Coffey will be doing all the difficult fab work and Phase 2 officially begins.  I've known John for years, since we ran the Open Track Challenge back in 2003.  He's done a lot of really nice work for a number of roadracers and autocrossers in California.  If you're in So Cal and need some fab work done, give John a buzz – just please wait till he's done with my car first if you don't mind…:)
Check out the BetaMotorsports Youtube video
I've been chatting with John for several weeks on the project, and what started as 2-3 things for him to do, has grown to 10-11 things.  It's not that I've thought up a ton of new things, it's just that as I've collected some parts and studied the car more closely, I've better realized the extent to which the aftermarket's offerings aren't up to snuff.   There's a lot of parts out there that are "close", that just need a little welding to be made right, a couple other things will be almost scratch-built.  Even those SPC upper control arms shown above, I believe we'll need to modify to increase their adjustment range.  Nothing worthwhile is easy!
Rear brakes got here recently – from before, the stock (awful, worn-out) rear drums weighed 43 pounds.  Was hoping to save weight with my aftermarket brakes but it looks like I didn't-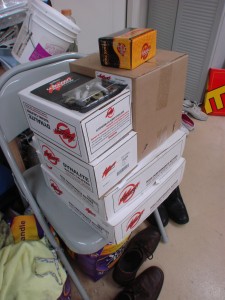 This pile of brake parts, everything needed for the rears, weighs 48 pounds.  There may be a few pounds in packaging there, but at best, my rear brakes will be a wash from a weight perspective.
I worked out what I'm hoping is a good first stab at the piston areas for the rear calipers.  They have to be "just right" in proportion not only to the front caliper piston area, but also to the master cylinder bore, taking into account pedal ratio and everything else.  Fortunately with a company like Wilwood, I have a few different caliper options with this mounting style and dimension, so I can swap calipers relatively inexpensively if I did this really wrong.
Rotor diameter is 12.19 to start with.  I know that's really disappointing from a bling-bling perspective, but my justification is thus:
1. For autocross, you really don't need monster brakes, there's not enough braking to overheat a reasonably sized system
2. Lighter is better, and the larger options will add weight.  I'm already several pounds over where I'd hoped to be.
3. This is the largest I can run and still hope to fit 15″ wheels.  While I don't plan to run 15″ wheels while autocrossing, the vintage Trans-Am cars always ran 15's, so I thought it would be cool to be able to slap on some old Minilite-style wheels or whatever, if I'm ever at an event where I want the car to look even more like the classic Trans Am cars.  Plus you never know what new tire sizes might come out some day – if somebody decides to build a radical tire that only comes in an ideal size for the car in 16″ diameter, I wouldn't want to feel screwed out of that tire, or have to change the brakes to fit them.  The more wheel diameter options you have, the more tire options you have, and tires are the most important part of the car.
Speaking of important parts of the car, I hope to be picking something up this weekend that is certainly a very very important part of the car.  More to come there, maybe Sunday if it's ready.
In that pic above, the car is sitting on 9.5″ long 5″OD springs,  a size Hypercoil and others label as "conventional" springs in their catalogs.  Below is one of those springs, next to a stock spring.  The stock spring is almost twice as long!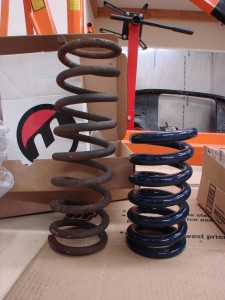 Happy Thanksgiving everyone!