Spoiled no more
As mentioned earlier, the rules are constantly changing within the SCCA, and the ST category (which includes my STX class) is no exception.
Today the November 2010 "Fastrack" was released:
http://www.scca.com/documents/Fastrack/10/10-fastrack-solo-solo.pdf
In it was the announcement that the suggestion to remove 14.2.F was made to the SCCA's BOD (Board of Directors).  The BOD oversee all of SCCA and for the most part, aren't interested in Solo (autocross).  With Club Racing and Pro Racing, we're sort of the redheaded stepchildren amonst SCCA members, not receiving much attention from the top.  In a lot of ways this is for the best, as the recommendations made by the SEB (Solo Events Board) are generally "rubber stamped" by the BOD and we go on our merry way.
As mentioned in the post about my racing background, I have been lobbying for the removal of the aero/body-kit allowance from Street Touring since late 2003.  As you can see from my exploits, this stance is clearly not because I don't enjoy, or find interesting, or find worthwhile from a performance perspective, aero components on autocross cars.  I absolutely do.  The thing is, I don't think they belong on Street Touring cars.  ST is a great category because it allows you to do enough to make your car work really really well, without making you do stuff that you don't want to do.  Aero is one of those things that can help, especially the lighter cars, but it's not going to "fix" anything about the car from its Stock form.  Not when our average speed is 40mph.  There's been room to do some really wacky stuff for years, and thanks in a large part to the efforts of Team Undercoat Racing at the 2009 Nationals, it looks like ST's aero allowances are FINALLY going away!  A big thanks to them, and to our STAC members (especially Andy Hollis who has been the movement's most prominent evangelist), and to everyone who wrote in asking for the change.
Of course, whenever there is a change like this, not everyone wins, or is pleased.  Among those against those change were buddy Rick Jung, who has built one of the fastest STU Evos in the country, and who put a lot of work into designing a really nice 2-element wing legal for ST, that's found its way onto a lot of the top STX, STR, and STU cars-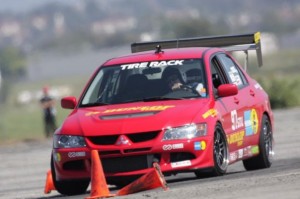 So here's a shout-out to Rick.  I think he's still making and selling the wings, which I've seen successfully used on some Street Modified and Modified-level autocross cars.  If you're in one of those classes and need a great wing give him a ring!  http://cirodesign.com/
So….as to how this change impacts the Camaro…
I'd originally envisioned running the car with the original style rear spoiler, because I like those sorts of things, and I think the car looks much better with it.  I don't think it would have made any measurable difference at autocross speeds.  Heck, even the huge wing I ran on the 240sx, I couldn't tell a difference at our average autocross speed (40-43mph on most courses).  And no, I wasn't planning on any enormous wing or spoiler for this thing – I think Penske got the look right and other than larger-diameter wheels and maybe a lower ride height, I plan to deviate from that look as little as possible.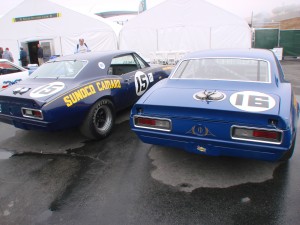 But, believe it or not, the rear spoiler you almost always see on first-gen Camaros was never offered as a factory-installed option in '67; you could only get them dealer installed.  That means I can't run it in STX in 2011 on the car, unless somehow the rule change either doesn't go through.
Had planned on running the car in a couple different "trims" depending on the event.  I think the car looks a little better without its bumpers too, but of course one must run them in STX.  So for SCCA, the trim will be no spoilers and both bumpers.  If I take the car to a non-SCCA event, then I'll probably run both a front and rear spoiler, but no bumpers.  Will have to come up with a way of making the rear spoiler removable, without leaving ugly holes in the trunklid.  Maybe incorporate some trunk latch pins to the spoiler mounting scheme, making it look even more like a Penske car.  🙂  Even the earliest pictures I've been able to find of their Z28s, all have the rear spoiler.  Here's one of the car prepped for Sebring, the second race of '67-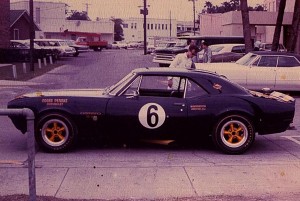 Car came with a spoiler so I weighed it tonight,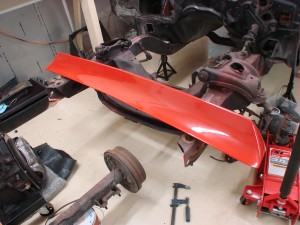 about 6.5 pounds.  Doesn't sound like a lot of weight right now, but  I know how hard it is to get chunks of weight that big out of a car after you've done the "big ticket" items (spare/tools/jack, seats, battery, and exhaust).  At some point I'll be scrounging for a quarter pound or less, making this seem huge.
Underside of the car is all cleared up, ready for the work to begin.  Interior is *almost* done, just need to remove a few more pieces of door and window guts.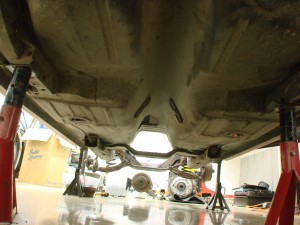 Getting there!