All blue
Whew, 3 years, been a while!
Some updates…
Returned that 370z to stock and sold it to a dealer, what a meh experience that whole thing was. So much for normal cars for me. It's been reclassed to STU, where it'd probably be pretty fun on 285s on 11s, so if you've got one, don't let my bad experience with 255s on 9's be a deterrent.
Somewhere out there somebody's riding around with powder coated chassis braces and a Quaife in what was probably presented to them as a stock 370 – lucky person.
The Z was gray, but before that I'd had 1 red truck, 2 black trucks, 4 red cars, and 3 black cars. The Camaro (red when I bought it) once painted blue, was my first non-black-or-red car. Now, all my cars are blue.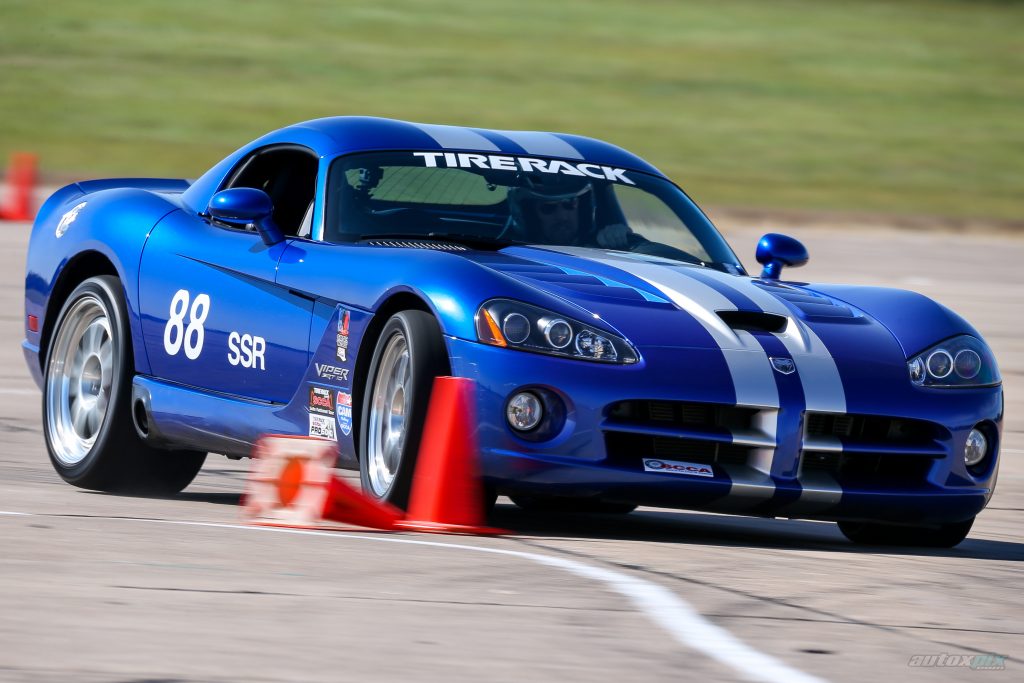 Shortly after selling the 370, decided to buy my friend Gary Thomason's blue 2008 Viper. I ran it at Nats in 2017 (6th, meh) and Spring Nats 2018. It's got the Koni 28's and front sway bar design of my old black Viper. This one has about 90hp more than my old one that comes on in a vtec-ish fashion around 4k. We rarely see those engine speeds in autox but when we do it's a lot of fun.
Video from Spring Nats Pro. Didn't finish where I wanted, but this is about the best I've driven it yet:
This car has a bit of a push that I haven't been able to get dialed out yet, though I had in the black car. Perhaps due to the stiffer coupe chassis. Have some ideas of ways to get the car to work better I plan to try out next season. SSR is a tough class!
Another change is in trailers. Had been making-do with a dilapidated old Pace. The big box style trailers are like a garage on wheels. Great when you're out at the event/track – lots of room for stuff, easy to get around the car and get to things.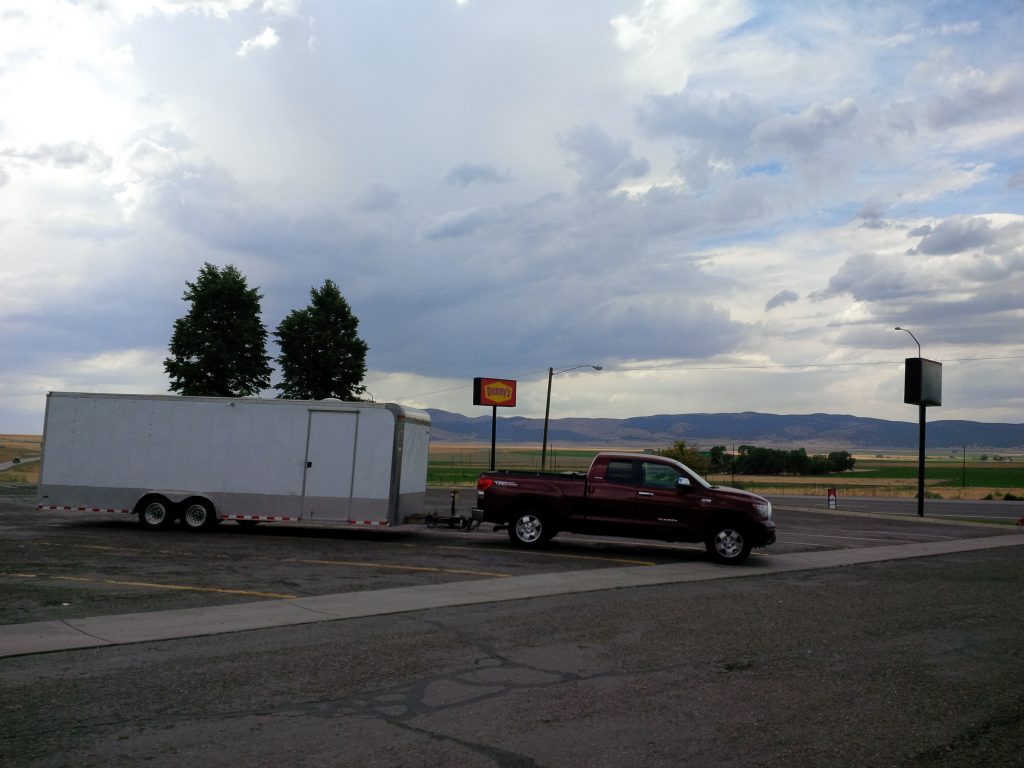 The problems are they're big, heavy, and womp fuel economy. I wanted to eventually replace the Tundra with something smaller, more economical, and more comfortable – but such a beast would probably have reduced tow capacity. Towed out to Nats '17 with the old girl, had arranged sale to a fellow from Texas, we'd meet up there.
Purchased a Montrose aluminum enclosed, had delivered to the site so I could switch out there. They're made in Wisconsin, so it was a lot cheaper having it delivered to Lincoln, than to San Diego.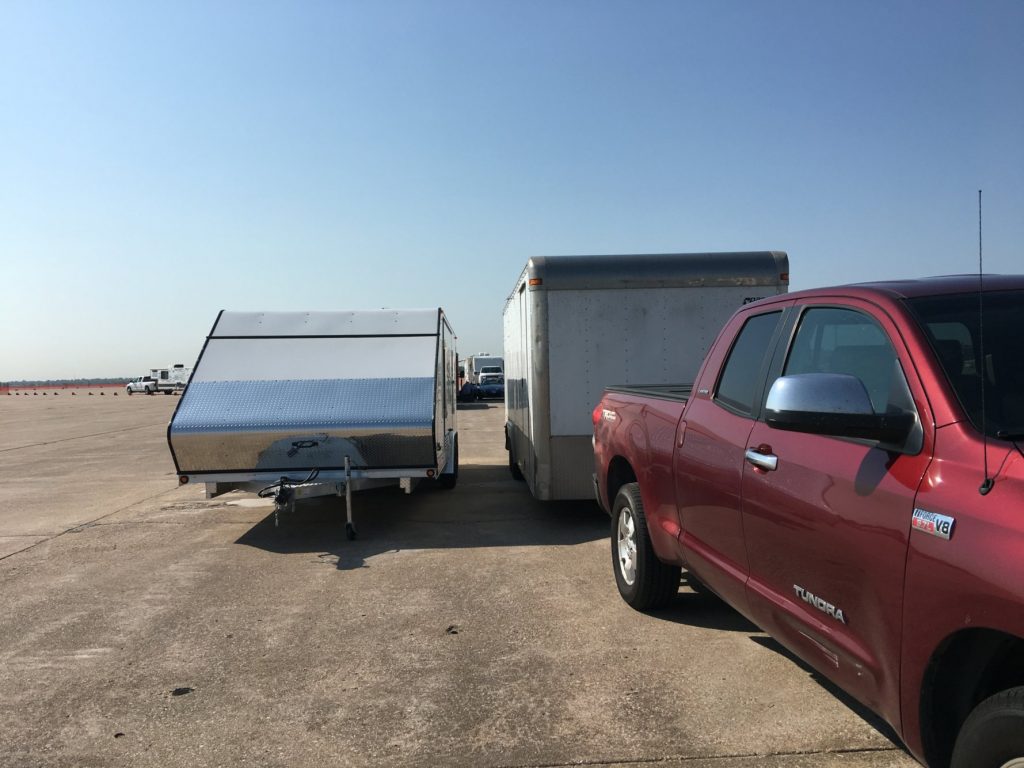 Moved from big old trailer to new small one while out there. A bit of an adjustment – definitely a lot tricker to live with out at an event. But on the road it's great, closer to an open trailer in trailering dynamics, than a full enclosed. For Spring Nats '18, towed up the Ike Gauntlet, which I'd purposely avoided with the Pace.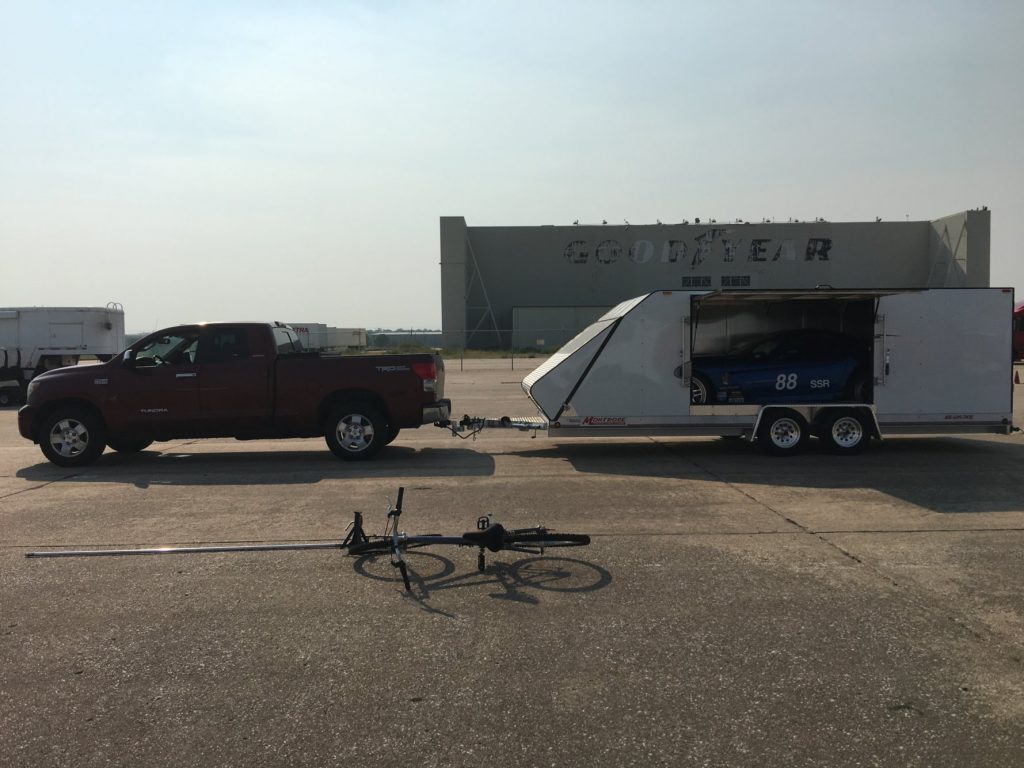 With the lighter trailer secured, the next change was to the daily driver. After 11 years, 160k miles, and ZERO issues, decided to part with the 2007 Tundra this year. It was everything you'd hope for from a Toyota, a paragon of reliability.
Part of what triggered the Tundra's departure was a family trip done in a modern rented minivan. We loved all the accommodations, especially the power doors. Started researching minivans to see if any of them could tow – 5k would be the absolute minimum to be useful. Unfortunately they're all limited to 3500lbs. It might have been possible to beef things up with airbags and tranny/oil coolers, but it might also just be pushing things too much. The MB Metris had 5k capacity but no amenities, it's like a broom closet on wheels.
Much research went into SUVs, a gigantic spreadsheet showing the stats of every almost new SUV available was compiled. Nothing really appealed. The Toyota Land Cruiser was a top pick due to how happy we'd been with the Tundra, but with more comfort and amenities. But they still guzzle gas and probably wouldn't be that much fun to drive daily, on paved roads.
The wife wondered if there were any electric ones, since I have free charging at work. Eueka! Isn't there a Tesla SUV that can tow? There is, the Model X (in blue!), rated for 5000-ish pounds-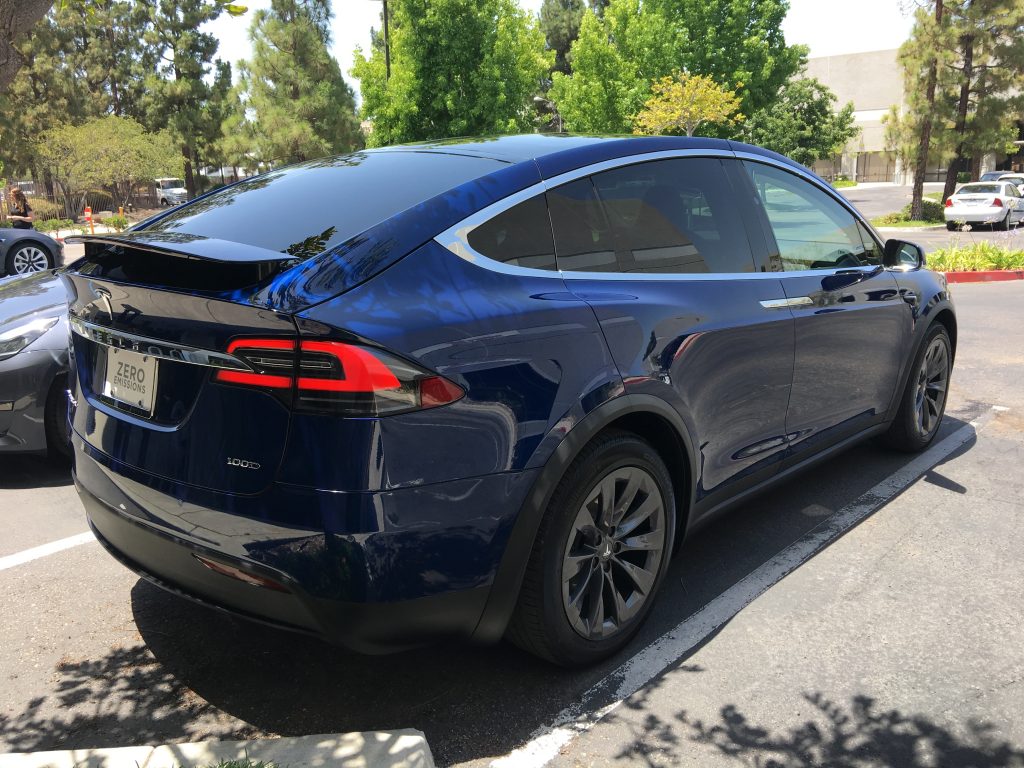 This 100d has a 100KWh battery, which will take it close to 300 miles on a full charge with normal/sedate driving. Maybe a bit less at high speeds, but 250+ miles in So Cal weather we've done in it already.
It's seriously quick too. Didn't opt for the big-extra-$ Performance model (which is much faster still) but this one will do the 1/4 mile in 13.0, 4.7 0-60, but its real strength is freeway merging speed, 40-70. It feels like this thing folds space when presented with a yellow light – you make lights you couldn't make in anything else, with no external drama (tire spin, engine noise).
Towing, the range is going to get cut way down – remains to be seen, but probably 100-120 miles. Thankfully Tesla has a fairly well distributed "Supercharger" network out on the highways which makes this just enough range. It'd still take a lot longer with all those stops to cover any significant distance. Plan is to use the Tesla for in-state races, but rent a truck for anything further.
When the weather is right, with some clouds, the view out the panoramic aircraft-style windshield is killer!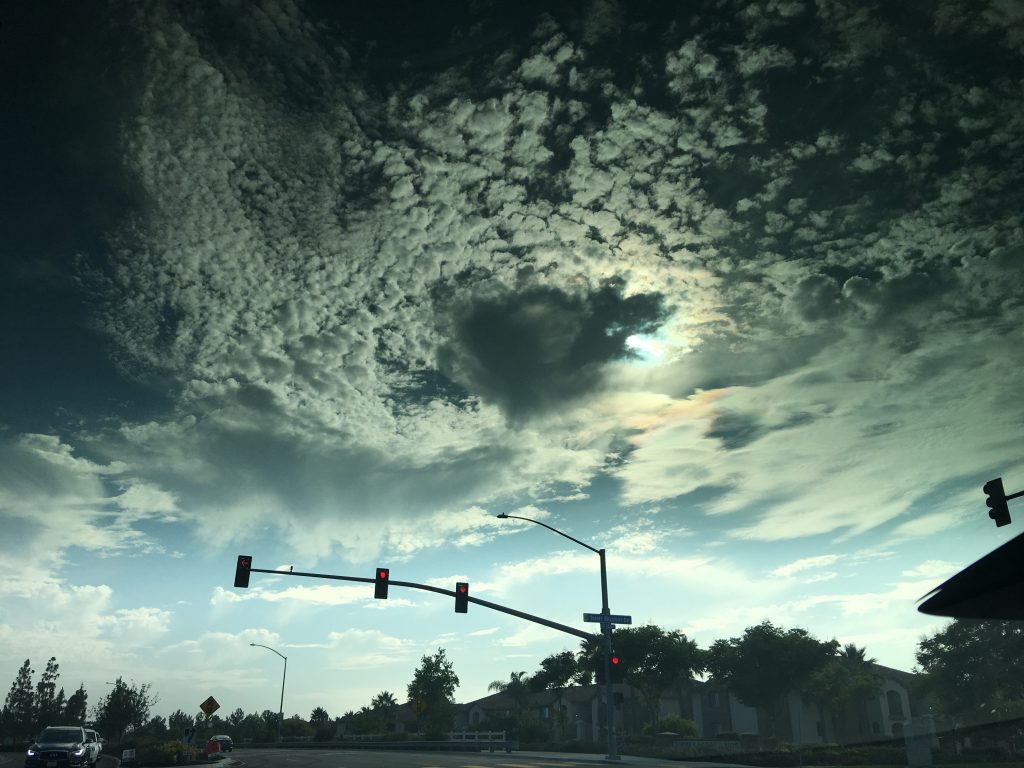 Then, there's the Camaro…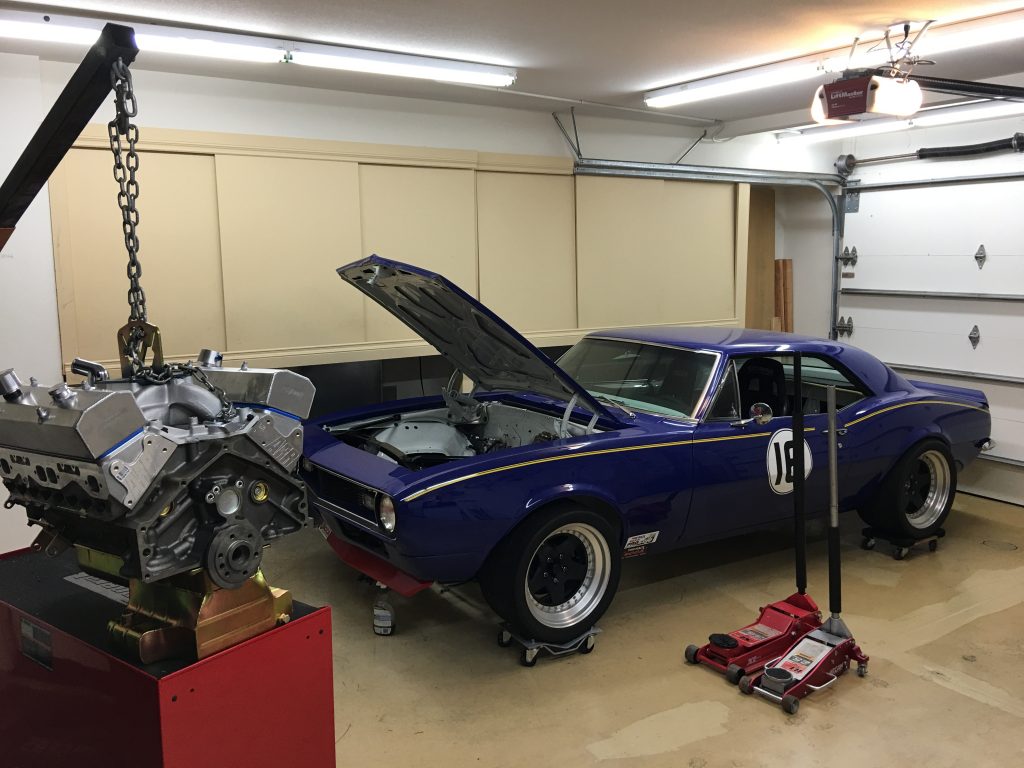 More to come in the next post…