Exhaust work and dyno session
Street Touring rules allow for headers but we must retain catalytic converters no further than 6″ down the flow path from the stock unit.  In the previous post detailing header install the Berk high-flow cats (which sit in roughly the stock place but are much shorter in length) went bye-bye.
Spent the morning at A&A muffler here in town (and recommend them if you need exhaust work done in San Diego) – first project was to get a new pair of high flow cats welded in just aft of the new longtubes, where the garageline mid-pipe provided a flex joint.  These cats are 100cpi high-flow units from my buddy Rick at Ciro Racing. Given how far back they are, and how large and not dense their cell structure, they should be providing very little backpressure.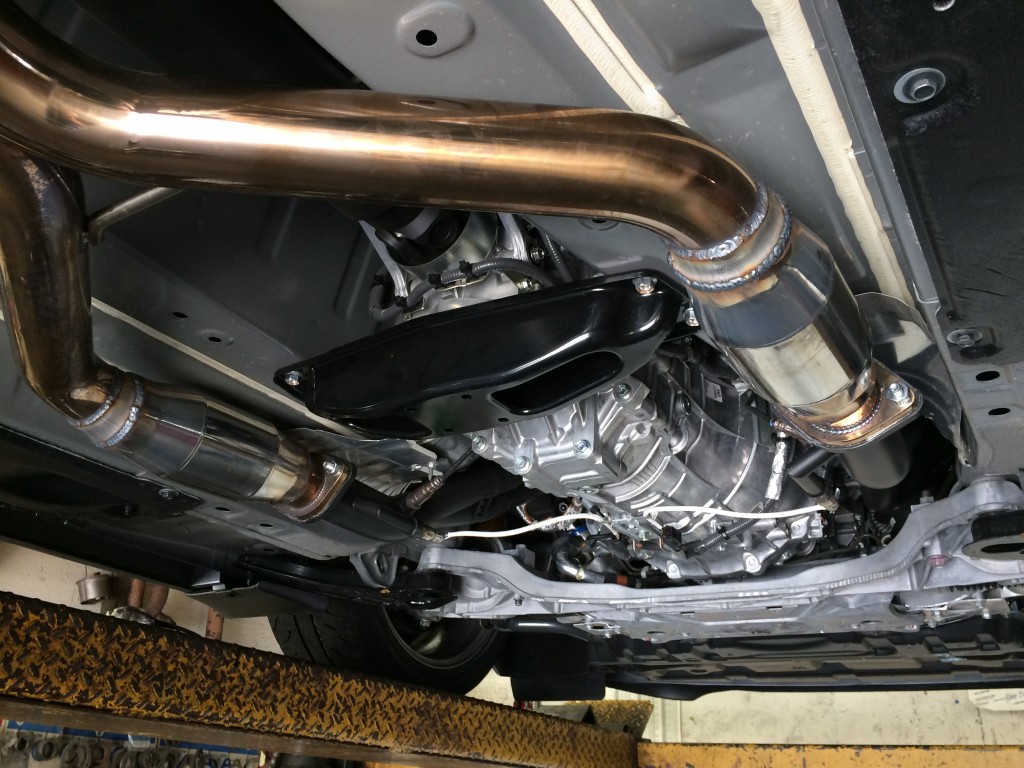 From there it was back to where garageline provided a pair of resonators.  They have a ~10″ body length and help knock the noise down a little – but there's room for more.  The garageline midpipe provided a great canvas for the next evolution of the car's exhaust.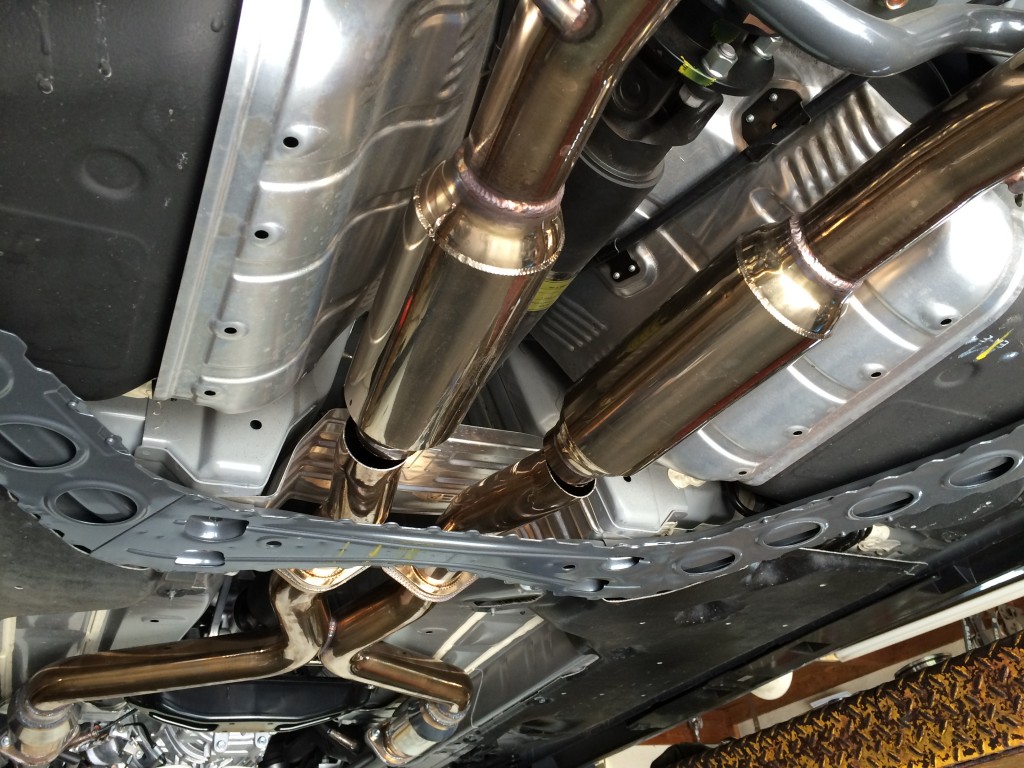 Inside view of one of the resonators removed: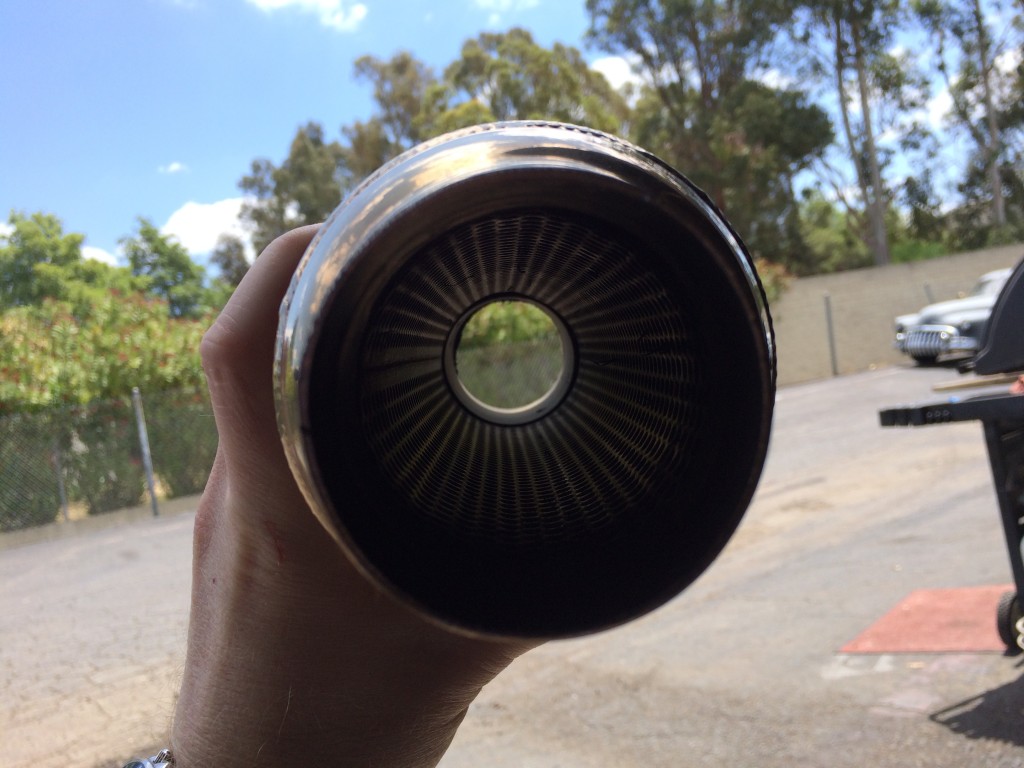 In their place, a pair of 2.5″ 17″ long Burns Stainless single-stage mufflers.  Very lightweight but also very effective.  Installed with v-bands to they can be swapped out for straight pipes later if needed.  These mufflers *shouldn't* cost much if any power but I didn't back-to-back with straight pipes.  I don't think they're any more restrictive than the resonators that were in there already.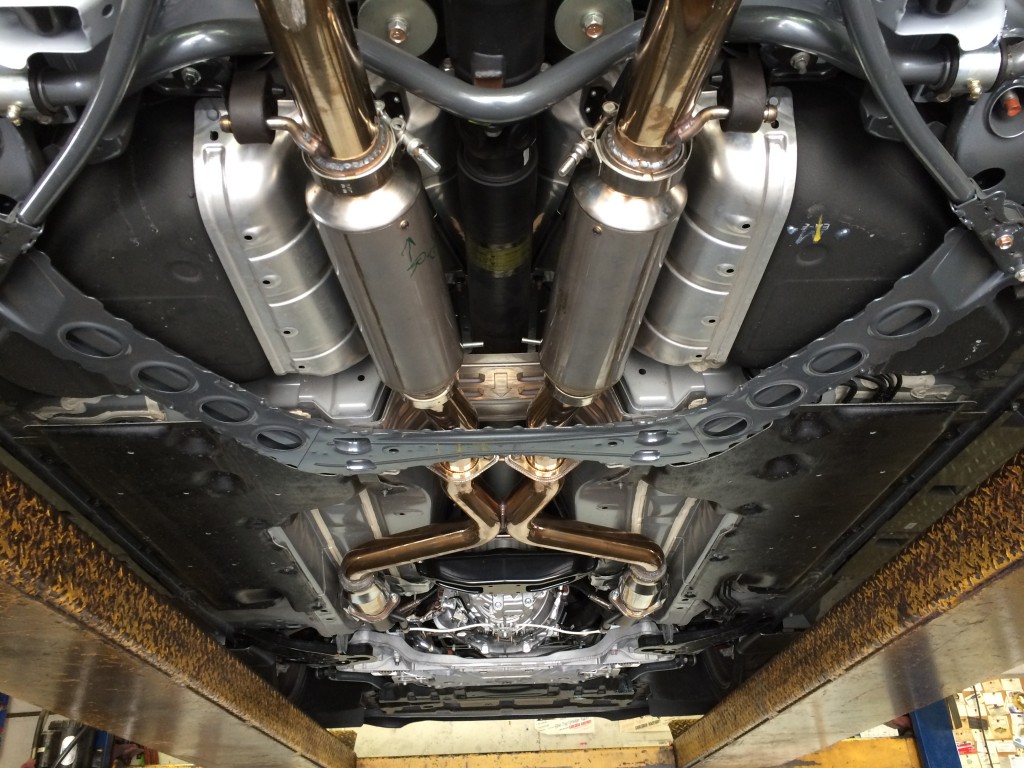 The car is actually a little quieter now than it was before with stock manifolds, the Berks, and the unmolested garageline midpipe (kept the stock muffler on throughout).  Hit 95db in San Diego with that setup – hopefully this gets it under, hard to say.
From there, 100 miles north for a dyno touch-up at Shawn Church's in LA.  This is probably maxing out the iPhone microphone, but believe it or now, was a noticeably a little quieter than last time.
Here's how she did: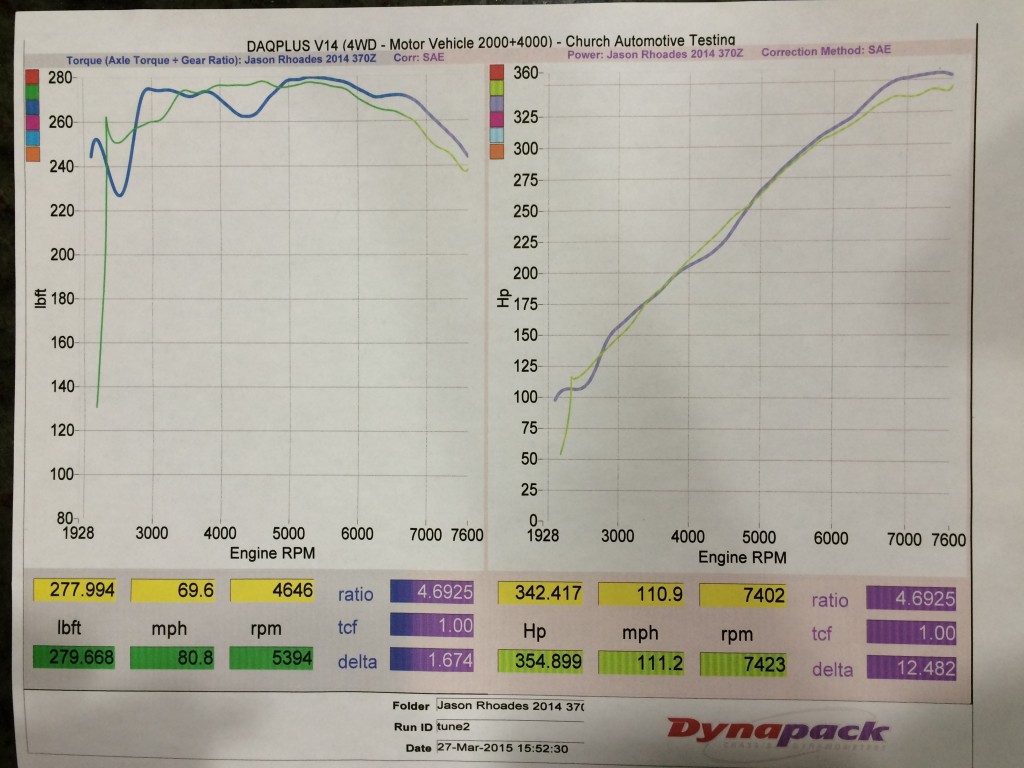 The bummer point first – there's a new 1000rpm-wide torque dip centered around 4400rpm.  I don't know that I've seen this before on other Z's with longtubes – need to keep looking.  I suppose it's possible it's some artifact of either the new cats or mufflers, but it's so pronounced, hard to say.  It was actually worse than this on the first couple tunes, this is the result with the dip minimized via tuning.
Two good areas more than make up for it.  First is the far left, from ~2800-3500rpm – those are some real gains, something like 15ft-lbs. in places.  With the car's gearing it does ~8.8mph per 1000rpm, so our slowest corners (~25mph) work out to about 2850rpm.
The car is stronger once out of the dip all the way to redline, especially above 6000.  It doesn't seem as coarse and choked as it did from the factory, now it zings all the way to the top.  Makes the car a lot more fun to wring out, with the sounds it made stock, it sounded like you were hurting it, now it seems to love to rev 🙂
The sound is a little bit "buzzy", not sure how else to describe it.   You can kinda hear it in the video.  370 folks who switch to high-flow cats hear a buzz on decel through certain parts of the rev range – the car now does that everywhere.  There's a bit of vibration through the pedal at 3500rpm under heavy throttle but nothing terrible.  Glad I kept the stock motor and trans mounts!
Last thought on another benefit – the headers saved 10 pounds over the stock manifolds + Berk HFC.