First race entry
The SCCA San Diego National Tour is coming up March 30-31 – this is my home event on the SCCA National Tour series, and will probably be the car's first live autocross.  That only leaves 7 and a half weeks to get this thing together!
To put extra pressure on its completion, went ahead and registered now – so here is the car's first appearance on an autocross entry list–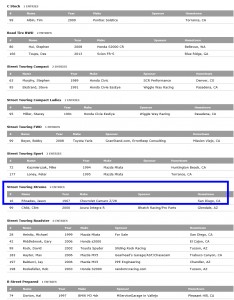 Entries are still a little light as of today – most people register in the few weeks just before the event.  There are 30 registered at the moment, should be 300+ by the time registration is complete.  The 2 entrants in the STX ("Street Touring Extreme") class should be 12 or so come race day.
Still a lot to do, though the to-do list is slowly shrinking.