It's been two years!
Well, it's officially been two years since I flew up to Sacramento to drive this thing home: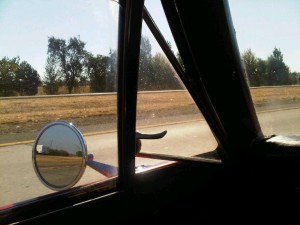 It's come a long long way since then.  I broke the project into five phases:
Disassembly/teardown
Fabrication
Body & paint
Assembly
Tuning
Phase 1 finished pretty quickly, I had the car stripped to the shell and off to John Coffey for fabrication, in just over 2 months – November 2010.
Phase 2 took 5 months, to the end of April 2011.  A little longer than I originally anticipated, though not really all that long in retrospect.  There may be a couple other things I need to have John fab up for me, but the key chassis elements are done.
Phase 3 was the one I feared the most – "paint jail".  We've all heard stories of guys with project cars sent off to the body shop, never to return.  Pat Smith of Pat's Custom Cars did a fantastic job in producing a quick turnaround, he had the car a bit over 4 months.  Some of the speed might have been due to the solidity of the base car – very little metal repairs were needed, all the original panels were kept intact.  Car was hope by September of 2011.
Phase 4 is where it's been for the past year.  Those that have done one of these can appreciate how long this part takes when you're taking the time to "do it right".  Lots of things don't fit right without a little tweaking, and it takes a long long time to get all the details done right.  When you're putting this much work into something, any little imperfect shortcut will be staring back at you forever.  In addition to the sheer amount of work this step entails for me, life has been busy – the day job/career has been going well but consuming 60-70 hours/week pretty routinely.  Earlier this year during my project's pause, I started a new business and have been working to get it off the ground.  Oh, and then there's this guy: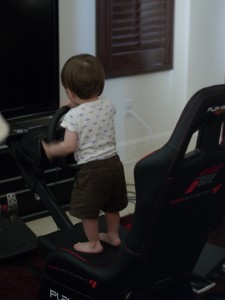 What was a tiny few cells rapidly dividing when I bought the Camaro, is now almost one and a half years old.
Still chipping away at the to-do list.  Even as things get knocked off, it hovers around 50 items long, as I discover new things along the way that need doing.  I've also been cheating a bit, making some suspension tweaks along the way.  Those parts could wait until after the car is on the road as part of the final Phase 5, but many of the tweaks are fun and simple to do, good projects when there's only 30-40 minutes to work on things.
Usually after 2 years I'm thinking of moving on to something else – in this case, just getting started!  The car should provide for a lot of fun for a long long time, in lots of different types of events.
To those that have been following the project this whole time, thanks for your patience!