First two "road & track" wheels arrived
Should go from having no wheels & tires, to two sets, in another week or two.  Pleased to see these Vintage Engineering 15×8 wheels fit my aftermarket big brake setup front and rear.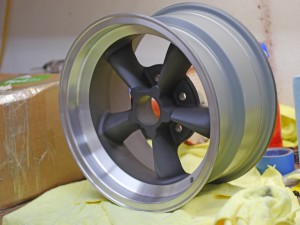 These are the ones I'll use up front, with 4.25″ backspace.  With a 15″ wheel, that's all you can go (maybe 4 3/8″ max) before you have interference with the outer steering boot.  Rears will have a bit more backspace (4.75″) to help fit the big 275 rear tire.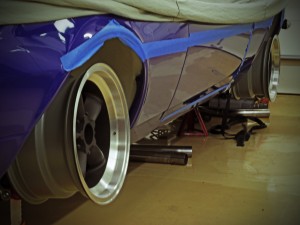 The plan for these wheels is to use them on street and on the track, and for any show-type events.  I'm not really a car show type of person, but with the right stickers, hoping it could pass as a Penske/Sunoco replica to the untrained eye.
Once the rear wheels arrive, will get the Avons mounted, and see how this thing looks on the ground!  There's a good chance my STX wheels and tires will be arriving at the same time, should make for a lot of fun photos!