Taking a little break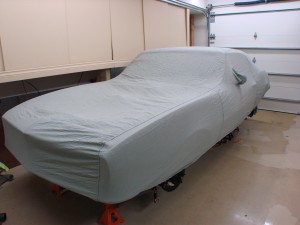 I know some of my more ardent  blog followers will find this disappointing, but I'm going to be taking a break from the Camaro for a while.
As for progress from the last update – the rear quarter windows have been installed (much harder than it sounds to get it right), and I've put the rear seats in.  Windshield washer system is put together.  Flywheel/clutch/pp, bellhousing, and transmission are all together and in.  Fuel tank is fully in and buttoned up.  Original driveshaft fits perfectly though it will need to get cleaned up and receive fresh U-joints.
Left on the to-do list:
Fuel system
Cooling system
Power steering system
Electrical system (alternator and gauges)
Vent windows and door glass
Front seats
Exhaust system (headers and header-back system)
Wheels and tires
Odds and ends
Planning to get back to this late in the Spring or sometime in Summer.  In the meantime, have a planned investment in infrastructure – an enclosed trailer, which I've never myself owned before, always borrowed.  The timing should work out well, I can use San Diego's great autumn and winter to fine tune the car, so it is all ready to go for next year, instead of a big event like the SD Tour being its first outing.
If you've been following along some of the SCCA forums threads, you may have an idea what I'll be driving in 2012 instead of this.  Some opportunities are too good to pass up!
When I'm back to work on the car, I'll put some notes up on Facebook and the forums I visit, so don't worry about visiting here every day for updates.